Schalke midfielder Lewis Holtby cools talk linking him with a move to Arsenal
Schalke's Lewis Holtby has dismissed speculation linking him with a move to Champions League foes Arsenal.
Last Updated: 06/11/12 6:41am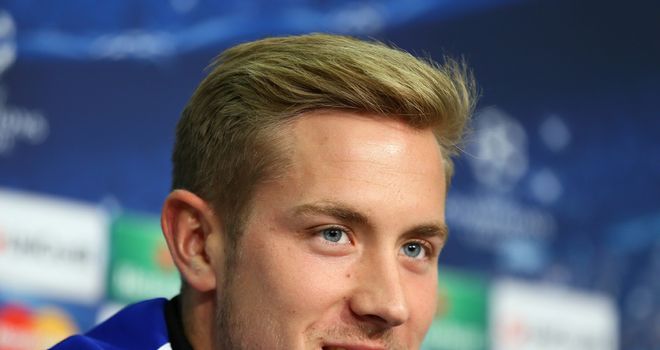 Schalke's Lewis Holtby has dismissed speculation linking him with a move to Tuesday's Champions League opponents Arsenal.
The 22-year-old Germany international, whose father is from Liverpool, has become an integral player for the Royal Blues and impressed during their shock 2-0 win at the Emirates Stadium a fortnight ago.
That performance led to increased speculation linking the midfielder with a move to the Premier League, with Arsenal mooted as a potential destination.
The fact Holtby's contract with Schalke runs out at the end of the season has only fuelled such reports, which he was asked about ahead of the Group B clash with the north Londoners.
"I think people talk about it too much in the media," Holtby said. "I am blue and white, I am with Schalke and agents are there to deal with that.
"My focus is on the squad, the team, the club and tomorrow's game.
"Other people can talk about it, but I just want three points for me and my team. Everything else I just put to the side.
"I play for Schalke, I don't play for Liverpool, Arsenal or anyone else."
Holtby was peppered with questions about his future but was always quick to turn attention to Tuesday's game, where he hopes Schalke can strengthen their position at the top of the pool against Arsene Wenger's out-of-sorts side.
"They have not been great but they are a great team, they know how to play," he said.
"They have a good young team, a quality team and we are prepared.
"We have got to be focused, we have to focus on our game for 90 minutes plus added time.
"We should show them we are at home. We have 55,000 people behind us and it should be a great game."
Schalke could be without Kyriakos Papadopoulos due to a head injury that meant he could not head the ball in training on Sunday while fellow defender Christoph Metzelder is definitely out with a hamstring injury.
Manager Huub Stevens revealed he plans to shake up his team to keep it fresh, although denied it was as a direct response to their 3-2 defeat at the hands of Hoffenheim on Saturday.
The Schalke boss was curt in the pre-match press conference and was riled by questions about who would play in goal.
"I have three goalies and one of them will be in goal," Stevens said, referring to his options of Lars Unnerstall, Timo Hildebrand or Ralf Fahrmann.
"I have always said that. You always ask me the same questions and you know my answers."