AC Milan's Kevin-Prince Boateng says thanks for the support received after racist abuse
Kevin-Prince Boateng has thanked everyone for the support he has received since AC Milan walked off against Pro Patria.
By Nadia Carminati
Last Updated: 04/01/13 3:59pm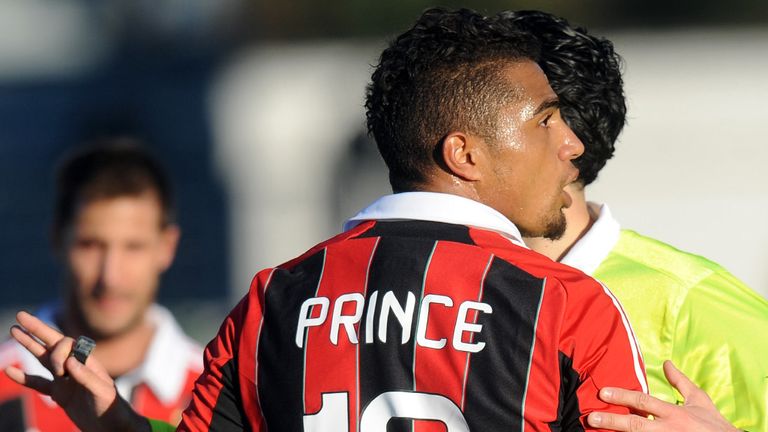 Milan's friendly against the Lega Pro Seconda Divisione A side was abandoned when Boateng left the field after suffering racial abuse from a section of the ground. After initial confusion, Milan's captain Massimo Ambrosini instructed his team to follow Boateng off the pitch.
Anti-racism campaigners offered their support for Boateng, believing that the show of defiance could set the example which other players may feel able to follow.
On his official Twitter account, Boateng said: "Thanks to everybody for the support and the understanding. It was really important for me.
Meanwhile, Milan's organising director Umberto Gandini also used social media to praise his players, saying: "Very proud of the Milan players who decided to walk off the pitch today for racist abuse from few idiots! No racism, no stupidity!"
In addition to this, owner Silvio Berlusconi insisted that his players would act in the same manner even if the game held greater importance than yesterday's friendly.
"I've appreciated a lot Milan's behaviour in this case and the declarations made by the players and my coach Allegri," Berlusconi told the club's official website.
"These episodes, whistles chants were repeated with an excessive frequence and disgrace the whole game.
"I assure that in the other matches, also the international ones, should similar episodes occur, Milan will leave the pitch."
Finally, coach Massimiliano Allegri hoped that his players had set a precedent.
"I hope that this will be followed if it were to happen in official games, from the amateur championships to Serie A," Allegri said.
"We are disappointed and saddened by what has happened. Milan play for the right to respect all players. We need to stop these uncivilised gestures. We are sorry for all the other fans who came here for a beautiful day of sport."