Schalke coach Jens Keller told his position is safe until the end of the season
Schalke coach Jens Keller has been told his position is safe until the end of the season despite their poor run of form.
Last Updated: 11/02/13 1:16pm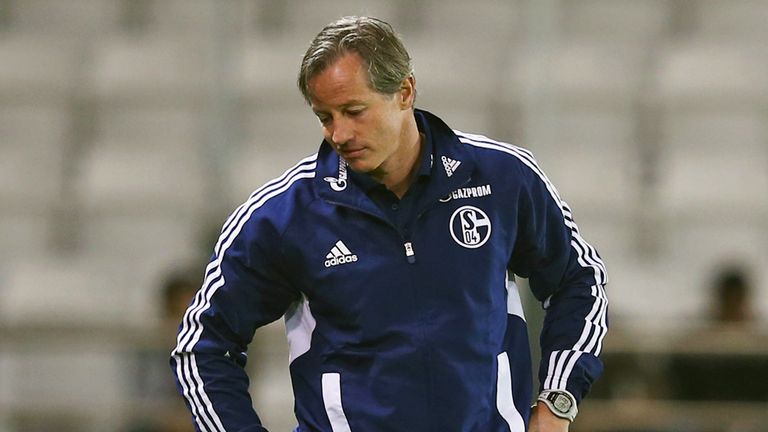 Saturday's 4-0 defeat to leaders Bayern Munich saw Schalke - who finished third last term - drop to 10th spot and left Keller with a record of four points from four games since he replaced Huub Stevens just prior to Christmas.
Including his nine games as coach of Stuttgart two seasons ago, Keller has won only three out of 13 Bundesliga matches, but he does not have to fear for his job, according to Schalke's director of sport Horst Heldt.
"Jens Keller was not on the pitch," Heldt said. "He will remain our coach until the end of the season."
Schalke's slump has seem them fall eight points adrift of fourth-placed Eintracht Frankfurt, and although they are one of only four sides still unbeaten in this season's Champions League going into their last-16 tie with Galatasaray, the chances of them qualifying for the competition through the Bundesliga again next term are dwindling.
"There is no point us talking about the Champions League right now," added Heldt to Sport1 television.
"The players have got to find the key fast and get back to performing at their usual levels."
Goalkeeper Timo Hildebrand knows that also means him.
"We know that football is all about results and we have got to start getting points again somehow," he said.
"We want to make it together with Jens Keller. It is up to us players, not the coach."
Their first chance comes at home to sixth-placed Mainz next Saturday, after which they travel to Turkey to take on Galatasaray in the first leg of their Champions League clash.