DFB-Pokal: Schalke midfielder Julian Draxler rejects criticism
Schalke's Julian Draxler has rejected the notion that his team took their DFB-Pokal tie with Hoffenheim too lightly.
Last Updated: 09/12/13 11:55am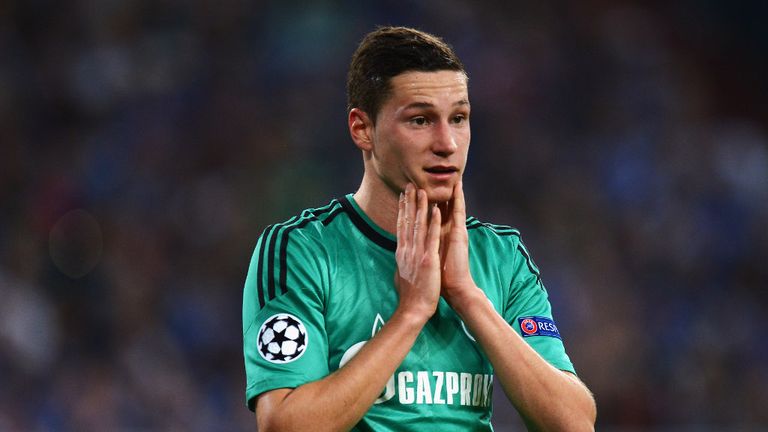 In response to criticism by Schalke coach Jens Keller that the players' motivation levels dropped for the 3-1 home defeat to Hoffenheim, the 20-year-old insisted they did want to win that game, even if the statistics may have told a different story.
"I don't see it that way," he told Kicker magazine. "I don't have the impression that we felt we were the best team going just because we had beaten Stuttgart.
"I can understand why the coach sees that, though. Just look at the running statistics which say that instead of the 120 km we cover in good games, then there were only 112 or 113.
"Of course it looks like there's an attitude problem, but it's something that we've been unable to put our finger on for years here.
"We show time and time again what we're capable of, but no sooner have we taken one step forwards, we suffer a setback and it gets to you after a while."
Schalke followed that DFB-Pokal setback with another one in the Bundesliga at the weekend, going down 2-1 at Borussia Monchengladbach.
A hat-trick of disappointments when they face Basle in the Champions League in midweek would leave them with little to salvage this season, and put Keller on the brink.
The Royal Blues need to beat the Swiss champions at the Arena AufSchalke on Wednesday to join Chelsea in the knockout stage of the competition. Defeat or a draw would see them eliminated.
Nevertheless, Draxler is still happy with his decision to stay at the club in the summer, despite offers from elsewhere.
"I had the chance (to leave) and I consciously opted against it," he said. "I'm not the kind of person to dwell on things.
"My mind and my heart are both with Schalke."