Bundesliga: Manuel Neuer says Bayern Munich can expect a backlash from Schalke
Manuel Neuer has said Bayern Munich can expect a backlash from Schalke in the wake of their 6-1 drubbing by Real Madrid.
Last Updated: 27/02/14 2:43pm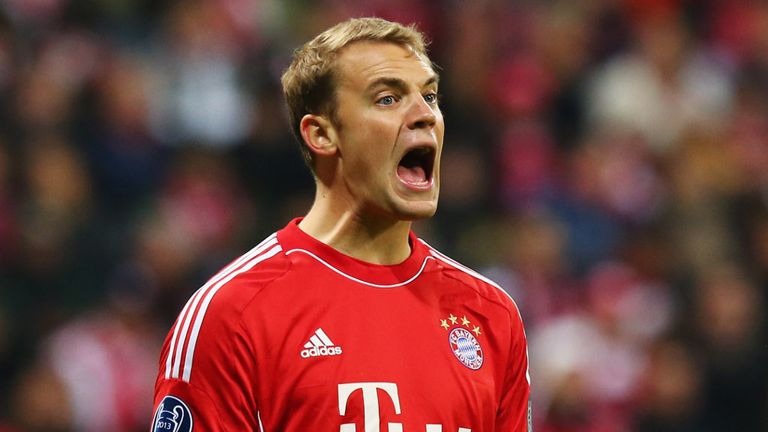 Schalke head to Munich's Allianz Arena to face runaway Bundesliga leaders Bayern with the hosts a record 19-points clear at the top of the table.
Fourth-placed Schalke are licking their wounds after suffering the heaviest home defeat by a German team in Champions League history on Wednesday by Real.
But ex-Schalke goalkeeper Neuer said Bayern can expect the Royal Blues to come out fighting in Munich while Pep Guardiola's European champions look to extend their record 47-match unbeaten league run.
"They will not come to Munich and let us win easily," said the 27-year-old Neuer, who joined Bayern from Schalke in 2011.
"Schalke will want to show their true colours, even after they have had to cope with this severe disappointment.
"We can't afford to take them lightly, we just want to win the game and stay at our high level."
Likewise, Bayern's former Schalke defender Rafinha said Munich cannot expect to enjoy a win over Schalke by a similarly high scoreline as the one Real enjoyed.
"This is a different competition and we can't afford to underestimate a team like Schalke," said the Brazil wing-back.
"For us winning is all that's important, a one or two nil result would be enough."
Bayern are well placed to reach the Champions League's quarter-finals after their 2-0 first-leg win at Arsenal, meanwhile Schalke are all but out.
They need a near-impossible 6-0 win at Real in the return leg in Madrid on March 18 to progress.
"We have no choice but to write off the game," said Schalke midfielder Julian Draxler.
"We have to get it out of our heads and prepare for Bayern."