Defending Bundesliga champions Borussia Dortmund travel to Bayern Munich this weekend
Defending Bundesliga champions Borussia Dortmund travel to runaway leaders Bayern Munich this weekend.
Last Updated: 30/11/12 8:54am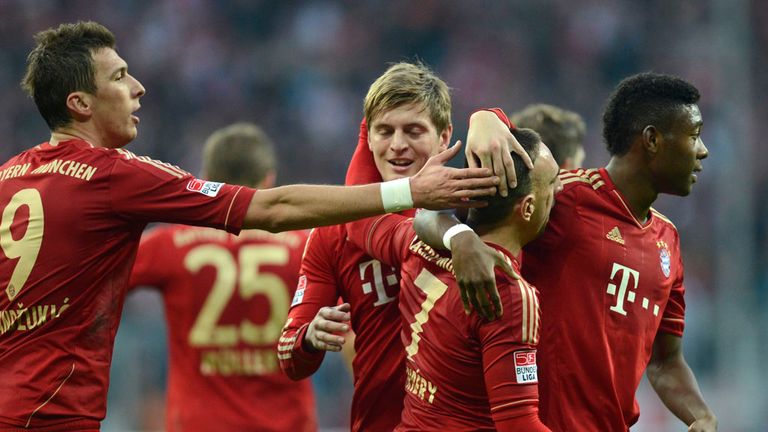 While Spain has El Clasico, Germany has a 'classic' game of its own with games between Bayern and Dortmund becoming more and more a battle of the Bundesliga heavyweights.
Dortmund have won the title in each of the last two years, thanks in part to a five-game winning streak against Bayern, but the roles are reversed for Saturday's clash with the Bavarians keen to win back their crown as Germany's number one club.
Bayern's 2-0 win at Freiburg already secured them top spot going into 2013, and the unofficial crown of autumn champions.
Dortmund's 1-1 draw at home to Fortuna Dusseldorf was the latest mishap in a season which has yet to really take off for the Westphalians, and that result has left them 11 points adrift of Bayern.
"We're going to try to win it, but Bayern have a very big points advantage and are playing consistent football," said Dortmund captain Sebastian Kehl.
Sheepish words from a camp which has clearly been shaken by the speed in which Bayern have regained the upper hand in German football after Dortmund left them in their wake for the past two seasons.
Times have changed, though, and Bayern are keen to exact revenge for their five previous defeats - a record run of losses against a single side for the Bavarians.
"We know how strong Dortmund are and we had huge problems against them in the past two years, but now we want to prove that we can do better," said Bayern midfielder Toni Kroos. "We have a good cushion (at the top), but that doesn't mean that we can relax."
Saturday's big game will be screened around the world in 203 countries and is expected to draw a large audience, not only in Germany.
The Bundesliga action starts on Friday night with Fortuna Dusseldorf hosting fifth-placed Eintracht Frankfurt. The home side head into the match off a morale-boosting 1-1 draw at champions Dortmund.
"Frankfurt have had a fantastic season," said boss Norbert Meier. "They come with good individuals and we need to recall what makes us strong."
His opposite number Armin Veh says he won't let his side underestimate Fortuna. "Dusseldorf are currently on the rise, they have surprisingly scored a point in Dortmund and also won on the game day before against Hamburg," he said. "Fortuna are certainly one of our fellow competitors. I expect a close game, for us it is important that we score."
The action continues on Saturday with fourth-placed Schalke hosting Borussia Monchengladbach and second-placed Bayer Leverkusen able to reduce the arrears on Bayern to seven points with victory over Nurnberg.
At the bottom of the table, Augsburg and Greuther Furth both have home games against Freiburg and Stuttgart respectively, while Mainz's clash with Hannover also precedes Saturday evening's big match.
The weekend concludes with struggling Hoffenheim hosting Werder Bremen and Wolfsburg meeting Hamburg in a northern Germany derby.