Bundesliga: Race hotting up for Europa League places
The eight-team Bundesliga scramble for Europa League places next season could become a four-horse race this weekend.
Last Updated: 12/04/13 7:59am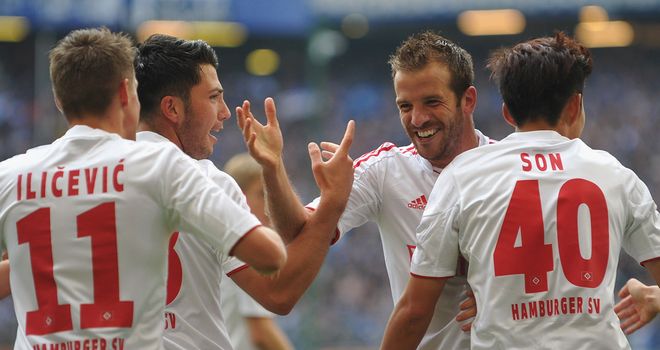 Nurnberg threw their hat into the ring with a 2-1 win over Mainz last weekend, taking them to within four points of sixth-place Eintracht Frankfurt, albeit with arguably the toughest challenge on Saturday against newly-crowned champions Bayern Munich.
Mainz, who trail local rivals Frankfurt by three points, host a Hamburg side who, after three consecutive losses, know their season will be as good as over with another defeat.
"A lot has got to change here," said Rafael van der Vaart, who replaced Heiko Westermann as Hamburg's captain this week as coach Thorsten Fink tried to shake his team up.
"We've got to lead the way on Saturday, fight and run and then we can make it," he added on his club's website.
Were the season to end now, the unlikely duo of Freiburg and promoted Eintracht Frankfurt would be representing the Bundesliga in the Europa League next season.
Freiburg get the chance to cement their fifth place, and even move up to fourth, when they host Hannover on Friday night.
However, their coach Christian Streich does not tire of repeating how the objective to make club history by ensuring a fifth straight season in the top flight for the first time ever, even though he has not entirely ruled out a campaign on the continent next season.
"All we want to do is play each game as well as we can," he said. "We have the hunger and the energy, and then we'll just have to see what springs up at the end."
Unlike Freiburg, who have another bite at the European cherry with a DFB-Pokal semi-final against Stuttgart next Wednesday, Hannover risk missing out on what would be a third consecutive Europa League qualification in the event of defeat on Friday night.
That leaves Borussia Monchengladbach and their quest to qualify for the Europa League for a second season running.
They travel to Stuttgart hoping their hosts are somewhat distracted by next Wednesday's cup match, and that either Freiburg or Frankfurt, who travel to Augsburg on Sunday, slip up.
Augsburg can certainly be expected to make life very difficult for Armin Veh's troops since their Bundesliga future is still hanging by a thread.
Five points separate them from Fortuna Dusseldorf, who host fellow strugglers Werder Bremen with the winner likely to extend their permanence in the top flight by a year, and the loser facing the prospect of five difficult relegation battles.
Finally, Wolfsburg host Hoffenheim and Champions League heroes come back down to earth at Greuther Furth.