Bundesliga: Werder Bremen sign Freiburg midfielder Cedrick Makiadi
Werder Bremen have made Freiburg midfielder Cedrick Makiadi their first signing of the summer.
Last Updated: 02/06/13 4:16pm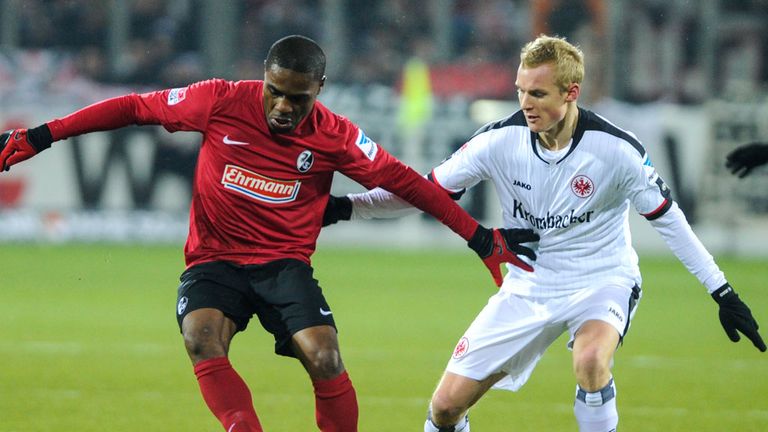 The 29-year-old, who impressed during the Black Forest club's rise to a place in the Europa League next season, has signed a three-year contract after Bremen made a sufficient bid to activate a release clause in the player's contract.
"Cedrick Makiadi has been on our wishlist for a while now," said Bremen's director of sport Thomas Eichin.
"He is a highly interesting, very stable player who can fill many positions. He has improved really well at Freiburg and has the maturity we need.
"We are pleased that he has chosen to join Werder Bremen."
Makiadi played 129 times for Freiburg and was part of their side which was promoted to the Bundesliga in 2009.
"We would have loved to have carried on working with Cedrick," said Freiburg's interim director of sport Klemens Hartenbach.
"It is very regrettable that we were unable to keep hold of him, but the way his contract was drawn up, and the offer from Werder Bremen unfortunately meant that this transfer has gone through.
"We would like to thank Cedrick Makiadi for his performances in the past four years and we wish him all the best in Bremen."
One player staying at Werder Bremen is goalkeeper Sebastian Mielitz.
The 23-year-old had a year left on his current deal but is now set to sign an extension.
General manager Thomas Eichin told BILD: "We are extremely pleased with the progress of Sebastian Mielitz. We have therefore decided to pick up concrete talks with him regarding a new contract. We want to keep him at our club."