Bundesliga preview: Bayern Munich coach Pep Guardiola feels nervous
Bayern Munich coach Pep Guardiola admits he may feel nervous when the Bundesliga champions start their title defence.
Last Updated: 09/08/13 7:25am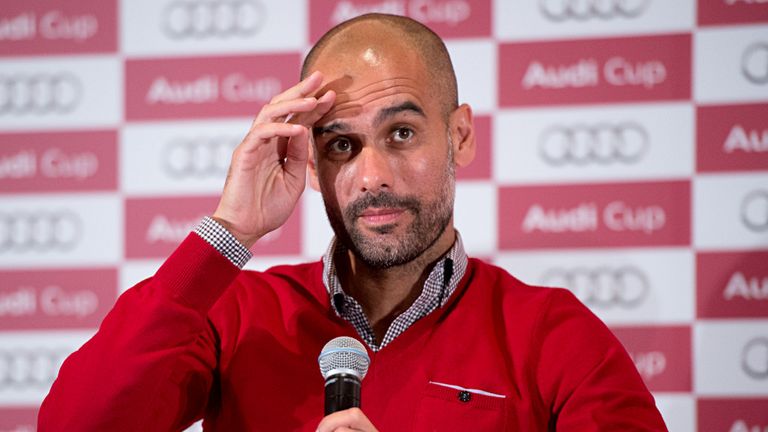 Following last season's all-German Champions League final between Bayern and Borussia Dortmund, more eyes than ever are turning to the Bundesliga, and with former Barcelona boss Guardiola taking charge of the Bavarians this year an unprecedented interest is expected for the opening fixture.
"Am I nervous? Not right now, but when the game comes tomorrow, I'm going to get a little nervous," Guardiola said.
"I'm lucky to be here for my first Bundesliga game, and I hope it won't be my last!
"I hope we play as well as possible, but I think to myself before every game that it's going to be very, very dangerous, and I know this one's going to be a very, very dangerous game."
Guardiola steps into the sizeable boots left by Jupp Heynckes, who swept the board last season by clinching four trophies including the Champions League and the Bundesliga title.
The Catalan tactician will therefore be judged on whether or not he can live up to the expectations set by his predecessor, although he prefers to gauge success in a different way.
"It is always said that if you win a title, then you've done well, but if you don't, then you haven't," he said at a press conference. "We've got to accept that, but it's not the truth.
"The players are most important. The best title for me is when a player says to me after two or three years: 'You really helped me a lot'. Lifting a trophy in the air does not mean as much."
Try telling that to the other 17 Bundesliga sides who will be keen to cut Bayern down to size this season, starting with Gladbach.
Bayern's most serious title challengers, however, are likely to be 2011 and 2012 champions Borussia Dortmund.
They begin their title challenge at Augsburg on Saturday while Bayer Leverkusen, who finished third last term, host Freiburg, who came fifth.
Sandwiched in between them were Schalke, who are optimistic that they can have a greater say in where the title ultimately ends up this season, although they will have to wait until Sunday before making their season bow against Hamburg.
"I believe we are better equipped this year compared to the last one," Schalke's director of sport Horst Heldt told Der Westen newspaper.
"I also get the feeling that the team has learned from what didn't go so well last season, but of course this is all only a feeling right now. I just hope my feeling does not betray me."
Elsewhere, northern Germany rivals Hannover and Wolfsburg meet at the Niedersachsenstadion while Hoffenheim host Nurnberg and Eintracht Frankfurt travel to the capital to face Hertha Berlin on Saturday.
Saturday evening's match sees Eintracht Braunschweig return to the Bundesliga for the first time in 29 years against Werder Bremen while Europa League participants Stuttgart are in action on Sunday at Mainz.