Werder Bremen's Richard Strebinger gets new deal as permanent Santiago Garcia move agreed
Werder Bremen have tied Richard Strebinger to a new deal and agreed to sign Santiago Garcia on a permanent basis.
By Thomas Zocher
Last Updated: 17/04/14 12:54pm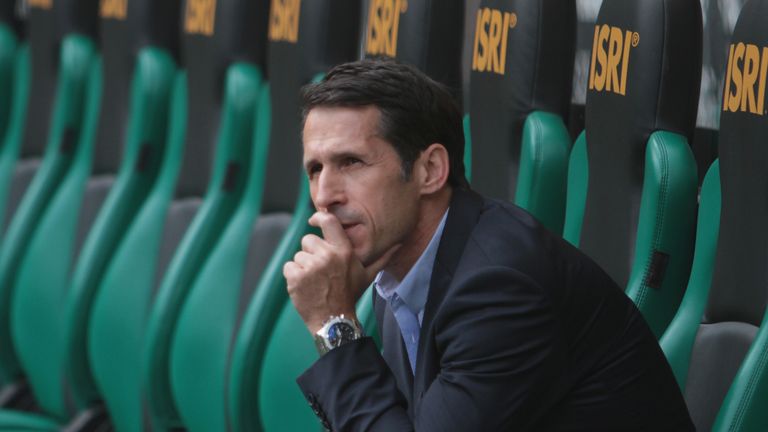 Mielitz was the first-choice keeper last season and for the first half of this campaign, but has struggled for games in 2014. Last December, Werder Bremen's current manager Robin Dutt started to prefer the services of keeper Raphael Wolf and Mielitz has not reclaimed his role since.
Bremen general manager, Thomas Eichin, said: "We have had talks about this and we have reached an understanding.
Mielitz told German newspaper BILD: "I am going to leave the club. I want to be the first choice goalkeeper, and I want to be playing games. If this is impossible for me at Werder Bremen I will have look at another club to do so.
"Basically I made my decision in January 2014 when I did not regain my starting place. It is definitely not an easy decision for me and I will depart from Werder Bremen with mixed feelings. But that's professional football."
After Mielitz revealed his intention to leave the club, Bremen have arranged a new contract with goalkeeper Richard Strebinger. The Austria U21 international joined the German side in 2012, but has not made an appearance for the club in the Bundesliga.
Strebinger has signed an agreement that will last until June 2017 and is expected to be Werder Bremen's new back-up keeper.
Sterbinger said: "I like being at Werder Bremen as I am getting regular appearances, this is of utmost important to me. Now I am getting the chance to make the next step in my overall development."
Eichin told the official club website: "Richard (Strebinger) has gone through good times in those first two years at our club. He is a young, flexible goalkeeper with sound reflexes. He is actually the starting goalkeeper of our reserves and was, from time to time, on the bench for some Bundesliga games."
Eichin also confirmed it is very likely the Weserstadion outfit will finally purchase Argentine defender Santiago Garcia at the end of the season. They have already agreed details with Chilean club CSD Rangers who own the transfer rights with the player.
While being on-loan at Werder Bremen, the 25-year-old defender has established himself as a regular for the club. The Westerstadion side will have to activate the £1.1m buy-out clause on his current deal to turn it into a permanent stay.
The Bremen general manager said: "We have sorted out details in this respect. Everyone at Werder Bremen is aware I am very fond of Santiago Garcia's performance level for the club this season. I also appreciate his personality and we are interested in his services."