Stuttgart coach Bruno Labbadia wants to be "100% convinced" about new deal
Stuttgart coach Bruno Labbadia says he needs to be "100% convinced" about signing a new contract.
By Thomas Zocher
Last Updated: 05/11/12 1:05pm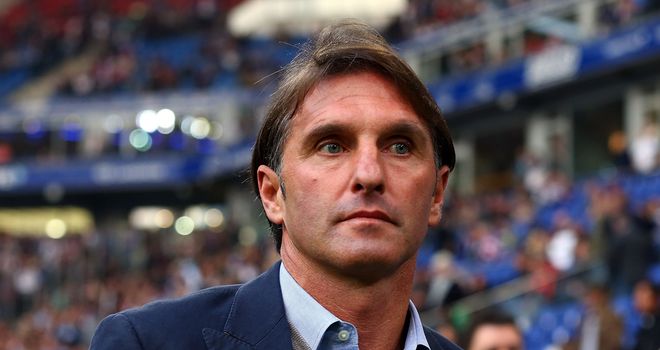 Labbadia's contract expires next summer and, after overcoming a difficult start to the season to lift the club back up towards the top six, negotiations over a new deal have commenced.
However, after losing his rag with reporters just a few weeks ago, he admits that he has had to think long and hard about whether he really wants to stay in Stuttgart.
"A contract is a responsibility and a duty and I am a person who only works 100% when I am really motivated," he said.
"I am now in a situation where I have to think seriously because I have seen how hard the way is.
"I need to be 100% convinced. I need security and conviction."
Labbadia's recent outburst was aimed at defending his team from what he claimed was unfair and unjustified coverage of his side by the German media.
Indeed, working together with the Stuttgart players is one of the reasons why he did not throw in the towel a few weeks ago and why he could carry on as the club's coach.
"I have a team of players with whom I have so much fun working together," he added on Sky television.
"They have so much determination and that's why I am so attached to them.
"The relegation battle (two seasons ago) also brought us closer together. I am just seeing how things go."
Labbadia took charge of Stuttgart in 2010 when they were struggling at the wrong end of the table and lifted them to safety.
Last season, after a similarly slow start to that witnessed in the current campaign, he led the Swabians to sixth in the table and a place in the Europa League, and they are now just one point behind the top six and a return to European action for next season.