Wolfsburg face a trip to Bayern Munich in the semi-finals of the DFB-Pokal
Wolfsburg have been handed the unenviable task of a trip to Bayern Munich in the semi-finals of the DFB-Pokal.
Last Updated: 03/03/13 9:41pm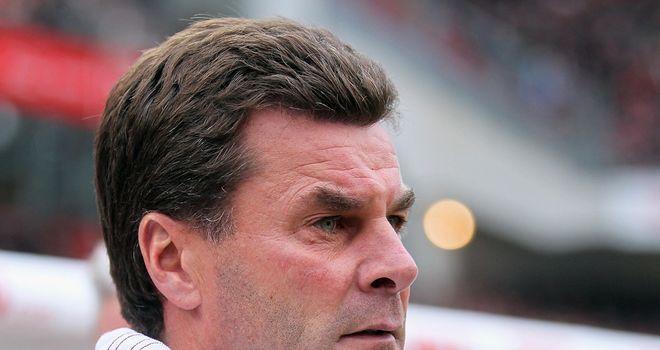 Dieter Hecking's side were given the draw they were hoping to avoid on Sunday with an away game at the Allianz Arena now standing between them and a place in the Berlin final, yet the Wolves continue to harbour dreams of clinching their first trophy since winning the 2009 Bundesliga title.
"As anybody could imagine, this was not our dream draw," Hecking said. "But, if we want to win the cup, then we have got to beat Bayern."
Sporting director Klaus Allofs added: "From six permutations, we have got the worst one imaginable. Nevertheless, we will do all we can to make what seems to be impossible possible."
In the other semi-final, Stuttgart and Freiburg will meet in a Baden-Wurttemberg derby match at the Mercedes-Benz Arena.
Freiburg, who are also on course for a place in the Europa League via their Bundesliga position, may make it all the way to the capital without playing a single game at home, leading the club to respond to the draw with a touch of irony.
"We have had another look in the tournament rules and regulations, but we can't find anywhere where it states that Freiburg must always play away in the DFB-Pokal," a statement on their website read.
It is Freiburg's 10th away game in a row in the cup competition.
The ties will be played on April 16 and 17 with the winners meeting in the final in Berlin's Olympiastadion on June 1 - a week after the Champions League final in London.