Bundesliga preview: Bayern Munich can set a record for straight unbeaten games
Bayern Munich can set a new Bundesliga record for consecutive unbeaten games as they host Augsburg in a Bavarian derby.
Last Updated: 08/11/13 9:21am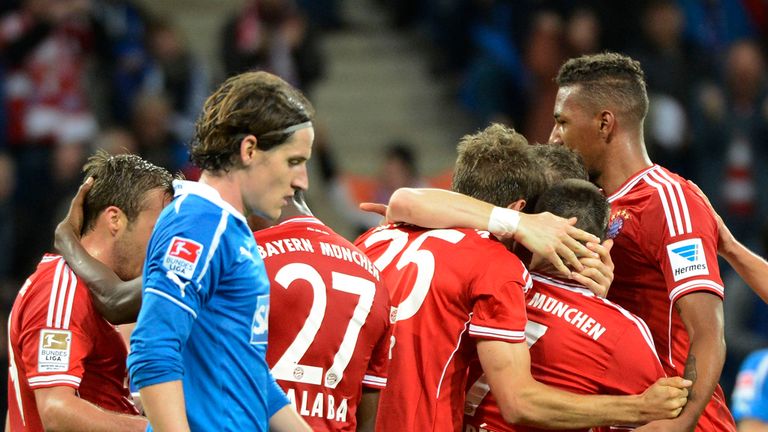 Having equalled Hamburg's 31-year record with a 2-1 win at Hoffenheim last weekend, Bayern can now set a new mark if they manage a 37th game on the trot without defeat.
The last time the record German champions lost was last October, when Bayer Leverkusen beat them 2-1 at home.
However, coach Pep Guardiola still is not satisfied.
"We still have to improve to win the Bundesliga," he said. "I've got to correct my concept."
Victory on Saturday will be important to keep Bayern at the top of the table ahead of their clash with second-placed Borussia Dortmund after the international break.
"Dortmund currently have one of the best teams in the world," said Guardiola. "It's going to be a big challenge for us to win there."
For their part, Dortmund will be bidding to remain within a point at worst of Bayern by winning at Wolfsburg on Saturday while third-placed Leverkusen will be trying to get back within reach of the summit by beating Hamburg, also on Saturday.
The first game this weekend promises fireworks both on and off the field as local rivals Hannover and Eintracht Braunschweig meet for the first time since 1976.
The build-up has been tense with Braunschweig followers attaching a scarf of their rivals to a pig and letting it loose in Hannover town centre.
Extra police will be on duty in an attempt to keep the peace.
Elsewhere, Schalke host Werder Bremen and Hoffenheim welcome Hertha Berlin to the Rhein-Neckar Arena while Borussia Monchengladbach entertain Nurnberg in Saturday's evening game.
On Sunday, there are two more derbies with Mainz hosting Eintracht Frankfurt and Freiburg entertaining Stuttgart.