Bundesliga: Hubb Stevens plans Stuttgart rescue mission
Huub Stevens has set his sights on saving Stuttgart from relegation after taking charge of the top flight strugglers.
Last Updated: 10/03/14 1:18pm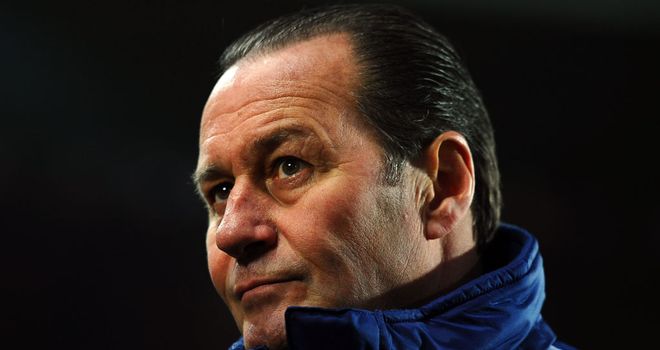 The Dutchman replaces Thomas Schneider, who was relieved of his duties on Sunday after a 1-1 draw with Eintracht Braunschweig left the club hovering above the drop zone by just a single goal.
Stuttgart lost eight games in a row up to Saturday, which is why the club decided a change had to be made.
"I know it's a challenge, but I'm up for it," said the former Schalke, Hamburg and Cologne coach, who was relieved of his duties as coach of Greek side PAOK only a week ago.
"As soon as I heard from Stuttgart, I didn't need long to say yes. I felt ready."
Stevens inherits a squad of players in low spirits after such a dismal run of form, but he has 10 games to get them back on track.
"There's going to be an incredible amount of work to do in the coming games and I'm going to talk a lot to the players," said Stevens, who has already been given the lowdown on the situation by out-going coach Schneider.
"I'm very sorry for him, but that's the way things go in this business. I'm grateful for what he has told me, but I'll still be doing my own thing.
"Our only priority now is to stay up and we need to focus all of our efforts into that. We need to be united."
Stevens, the third man in the Stuttgart hotseat this season after Bruno Labbadia and Schneider, was coy on what will happen after the summer, saying he is "only thinking about keeping Stuttgart up", but the Swabians would certainly prefer not to have to make another change in June.
"Of course we're not proud that we've changed our coach twice already this season," said the club's president Bernd Wahler.
"I wouldn't say that it's a personal defeat, but I'm not proud of where we currently are in the table.
"When I came here, I said I wanted Stuttgart in Europe and that has not happened, but I nevertheless see that as our mid-to-long-term objectives."
The short term can only be about survival, however, with Stuttgart last relegated to the second division in 1975.
"We can concern ourselves with the rest after that," added Wahler.