Bayern boss wary of Blues
Bayern Munich boss Jupp Heynckes is wondering how his side can topple a rejuvenated Chelsea team and has ruled out a move to Stamford Bridge.
Last Updated: 15/05/12 10:09am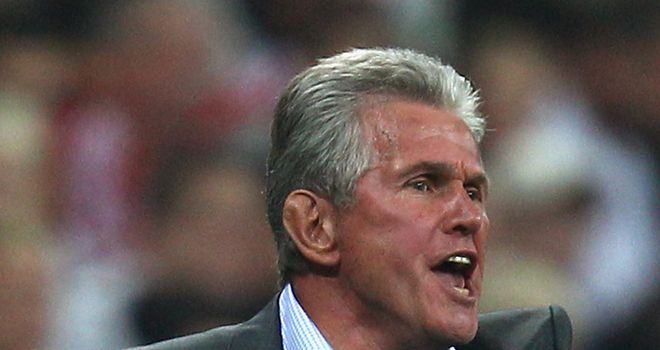 Bayern Munich boss Jupp Heynckes is wondering how his side can topple a rejuvenated Chelsea team and has ruled out a move to Stamford Bridge.
Bayern will have home field advantage when they face the Blues in the UEFA Champions League final at the Allianz Arena on 19th May.
They will, however, be locking horns with a side brimming with confidence after claiming the notable scalp of reigning European champions Barcelona at the semi-final stage.
Chelsea have also tasted FA Cup final success in recent weeks and know they must beat Bayern in order to be involved in next season's Champions League.
Heynckes concedes that Bayern have it all to do if they are to get their hands on a fifth continental crown and their first since 2001.
Impressed
"I watched the first leg of their semi-final against Barcelona and wasn't that surprised Chelsea went through in the end," he told The Guardian.
"I knew of the history between the clubs, and that Barcelona always have a difficult time when they meet. And, in that final phase of the second leg, Barca were not this 'fresh force' we have come to know. They seemed knackered, and [Lionel] Messi was not himself.
"But that does not diminish Chelsea's performance. I have watched and coached in the Spanish league. I know how hard it is to beat Barcelona. And now I'm left to wonder if Barca can't beat Chelsea, how can we?
"They are strong, and I have been very impressed by the way Roberto Di Matteo acts beside the pitch. He is very relaxed and seems in control. That shows his team are close together, fighting towards one goal. The philosophy has changed recently. That is the psychological feeling he has achieved at the club."
It has been suggested that Heynckes will be among those considered by Chelsea owner Roman Abramovich this summer should he decide against handing the managerial reins to interim coach Di Matteo on a permanent basis.
At 67 years of age, the veteran German tactician does not consider himself to be a leading contender for the role and, having experienced difficulties working under high-profile presidents during his time at Real Madrid, would be wary of accepting a post under Abramovich.
Principles
"At my age? I don't think so," he said.
"And I am 67. But you wonder if it is the most difficult job in football? Have you heard of Real Madrid? I was there one year. Fabio Capello, one year. Guus Hiddink, one year [actually only seven months]. John Toshack, one year [nine months].
On outside interference, he added: "That is the way it works sometimes, and you need your own principles. A manager can never accept somebody at the top influencing his decisions about the team.
"If that sort of thing ever happened, I would just have to stop. I could not accept it. I would never expect to have to explain my tactics to the club president, either. I have never done that - most of those I've worked under would not understand them, anyway.
"No, as a manager you have to have fun. You have to enjoy your work and be content. Satisfied. You have to have an atmosphere in which it is pleasant to work."