Bastian Schweinsteiger says Michael Ballack deserves benefit match
Bastian Schweinsteiger says Michael Ballack deserves a benefit match for his achievements in German football.
Last Updated: 28/01/13 4:43pm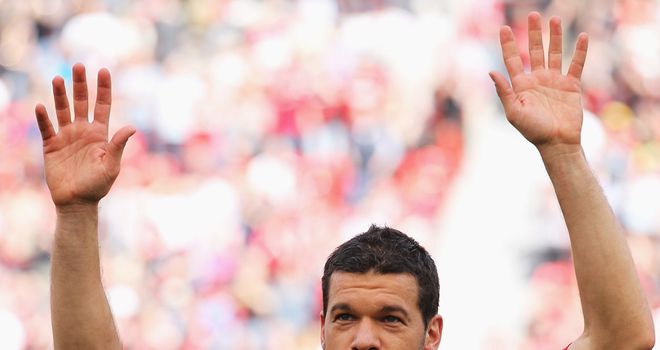 Ballack was in action for his first ever professional club Chemnitz at a recent indoor tournament, yet he never received an official send-off after he ended his playing career last summer.
The former Germany captain's international career ended in bitter circumstances when he was unable to break back into the national team after a challenge by Kevin Prince Boateng in the 2010 FA Cup final ruled him out of the World Cup that year.
His relationship with the German Football Association (DFB) suffered as a result of his exclusion and no farewell game was ever arranged, as had been the case for his predecessor as Germany captain Oliver Kahn.
Schweinsteiger believes such a game is now long overdue and he paid tribute to the 26-year-old, a former team mate at Bayern and colleague on the national team.
"He's one of the best players we ever had," he said. "Sadly, you always have it in the back of your mind that he never actually won any international titles."
Ballack was unable to shake off the tag of being an eternal runner-up after the year in which he missed out on the Bundesliga, the DFB-Pokal and the Champions League title with Bayer Leverkusen, who finished second in all three competitions.
He was also second with Germany at Euro 2008, the year his Chelsea side lost in the final of the Champions League to Manchester United.
He did win the Bundesliga once with Kaiserslautern and three times with Bayern, also clinching three DFB-Pokal winner's medals, but his near misses, which also included a third place with Germany at the 2006 World Cup and a final defeat to Brazil in the 2002 World Cup, have gained more attention.
"He doesn't get the credit it deserves, unfortunately," Schweinsteiger told Kicker magazine.
"He did a great deal for German football. I saw him recently in Munich and he asked me if I would be keen on playing in a benefit match.
"If he invited me, and my club allowed me to, then I would love to."