Bayern Munich midfielder Bastian Schweinsteiger targets Champions League glory
Bastian Schweinsteiger says Bayern Munich are hungry to win the Champions League and believes they have improved.
Last Updated: 19/02/13 7:06pm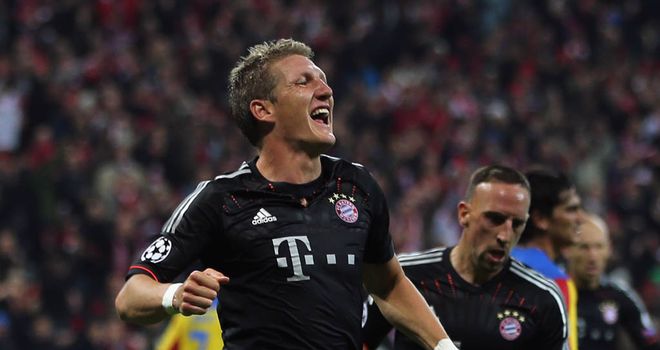 Bayern were beaten by Chelsea in the 2012 final but have bounced back impressively this term and are among the favourites to claim European glory ahead of their clash with Arsenal in the last 16.
Schweinsteiger is looking forward to Tuesday's first leg at Emirates Stadium and has warned Arsenal that Bayern will not let anything stand in the way of their dream.
"We are hungry to win the Champions League," he told the Daily Mail. "This team have been to the final twice and didn't win.
"We have more experience and we're moving towards our aim. Compared to the final against Chelsea, we are stronger. We have more good players and we are stronger on the bench. This is a crucial point.
"In the final, Chelsea brought on Fernando Torres and Florent Malouda and that helped them win the game. That's a big difference to last season. We have more options to change.
"We are eager to win, we have become a better team and again we are all working towards a return to the final.
"Five or six teams in Europe are candidates to win the Champions League and we are one of them. I know most of Europe do not want to play against Bayern Munich.
"We have gained a lot of respect during the last four or five years, but we have to win against Arsenal before we start to think about this."
Superior
Schweinsteiger is still disappointed that Bayern did not perform to the best of their ability in last season's final, and admits he was not confident when the match went to penalties.
He recalled: "We were the superior team. It all came down to penalties, just as it did for Chelsea when they lost to Manchester United in Moscow.
"Before the game, I had thought about how the match might end up. I knew Chelsea had lost on penalties in Moscow.
"On the night, Chelsea showed 100 per cent of their ability and Bayern did not. With 110 minutes gone I looked up at the scoreboard and thought, 'We have to win the game now', but we could not do it.
"It went to penalties and we lost. Chelsea were lucky and we were not. Maybe it was a good way for Chelsea to make up for losing in Moscow. Maybe it was a matter of fate."
While finishing as runners-up could still be regarded as a fine achievement, Schweinsteiger says nobody at Bayern is prepared to settle for second place.
The midfielder says they will be going for victory away to Arsenal, adding: "We say, 'Mia san mia'. Literally it is, 'We are we', but it means, 'We are who we are'. That's not being very arrogant but we are very confident about our ability to win the game. It is about a winning mentality.
"When our players come from somewhere else they sometimes show happiness when the game is 0-0 or 1-1, but we were brought up in an environment where we have to win.
"We are not satisfied with 0-0 or 1-1. This is the mentality of Bayern Munich."