Champions League: Bayern Munich's Thomas Muller has no fear over penalties
Bayern Munich's Thomas Muller is not panicking about the prospect of more Champions League final shoot-out misery.
Last Updated: 25/05/13 6:39pm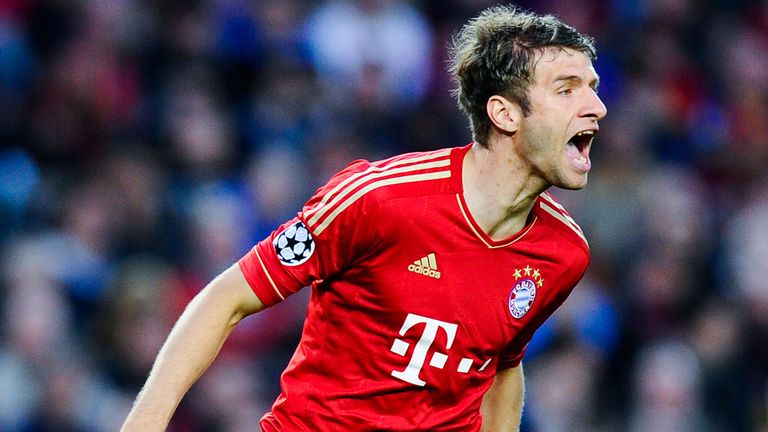 The legendary German accuracy from the penalty spot suffered a malfunction 12 months ago when Chelsea emerged victorious to conquer Europe for the first time.
Bayern return to the final for the third time in four years knowing their mettle might be tested in the most extreme manner again as they do battle with Borussia Dortmund in the first all-German final, but Muller is refusing to lose any sleep over the prospect.
Indeed, if today's performance in the pre-match media briefing is anything to go by, he is rather looking forward to it.
"What happened last year has nothing to do with self-confidence," he said.
"You never know who will be on the pitch at that point and some players are better at penalties than others, but no-one will be wetting their pants over it."
The German invasion of Wembley does appear to mark a shift in the European balance of power. Lauded as possibly the greatest club side ever for their performances over the previous four seasons, Barcelona were slaughtered by Bayern in the semi-final.
The four-times winners scored seven times without reply in a quite staggering two-legged display, even if Lionel Messi played through injury in the first encounter and sat out the second completely as Bayern romped to a 7-0 aggregate triumph.
"Barcelona were extraordinary in what they have done over the last few years," said Bayern skipper Philipp Lahm.
"They have won the Champions League on a couple of occasions and we felt they were the team we knew we had to beat if we were going to be successful this season.
"But we have developed by working together as a team. We have lots of attacking qualities and we didn't let them through our defence at all.
"It is difficult to know whether we can take the torch away from them, we shall have to see how it develops.
"But things are looking very positive for the future of the team. We have a great team, at the right age and we work well together."