Champions League: Bayern Munich coach Jupp Heynckes in relaxed mood
Bayern Munich coach Jupp Heynckes denied he is feeling nervous ahead of Saturday's Champions League final.
Last Updated: 25/05/13 6:38pm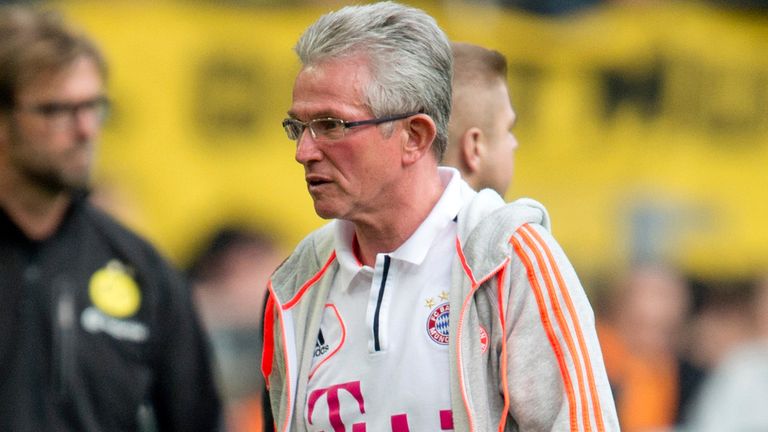 Heynckes will take charge of Bayern for the penultimate time, having already helped them depose Dortmund as Bundesliga champions and guiding them to the German Cup final against Stuttgart on 1 June.
The 68-year-old will be keen to secure the treble before handing over to Pep Guardiola at the end of the season but he was in relaxed mood at Friday's pre-match media conference.
"I'm sure I'll be able to sleep soundly," he said. "The match has a different importance to a Bundesliga game or a German Cup game, but it's a football match, with 11 players on each side.
"Both teams are German and a German team will win. That's what I'll think about in bed tonight. I have nothing to worry about."
Heynckes led Real Madrid to Champions League glory in 1998 but Bayern, who last won the European Cup in 2001, were beaten finalists in 2010 and again last year, when Chelsea were the victors.
That could add to the pressure on Bayern but Heynckes himself insists he has seen it all before.
"Last Saturday, the game against Borussia Monchengladbach was my last Bundesliga match as a coach and tomorrow will probably be my last opportunity to hold one of these trophies with my own hands," he added.
"Tomorrow is a special game for Bayern. We have a generation of players who are a bit older - 28, 29, 30 - and for those players, it would be the crowning glory of their careers.
"For me as well, of course, but I'm a bit more laid-back because I've experienced this before with Real Madrid. For Munich, it's a really important match, but for me, it's just another match."
Last season's defeat to Chelsea came on home soil at the Allianz Arena and Heynckes is hoping their luck improves at Wembley.
"Of course it's a place with real tradition in English football, international football and European football," he said.
"And I think that's a particular incentive for the players, to be playing in such a venerable location for a Champions League final.
"We will have two different fan groups here from Germany tomorrow, which very rarely happens, and I think the atmosphere will be unique.
"We hope Wembley will turn out to be a better venue for us (than Munich). Maybe another city will bring us luck.
"Last year in the Allianz Arena, our own stadium, we were the better team and perhaps the football gods will be on our side tomorrow."
As for opponents Dortmund, Heynckes admits he has been impressed by Jurgen Klopp's side.
"In recent years, Borussia Dortmund have been playing at a high level," he added. "The team's been advancing and creating their own kind of play.
"Both coaches play a very modern game and the collective approach is the focus for both teams, but we both have great individuals as well.
"On the pitch, I think it'll be intense, that's obvious. You expect that in a Champions League final.
"There'll be a quick pace, lots of one-on-one challenges, a lot of passing and both teams will be working hard to win."