Champions League: Win treble for Jupp Heynckes, Arjen Robben urges Bayern
Arjen Robben is determined to give retiring boss Jupp Heynckes the perfect send-off with the treble.
Last Updated: 26/05/13 4:00pm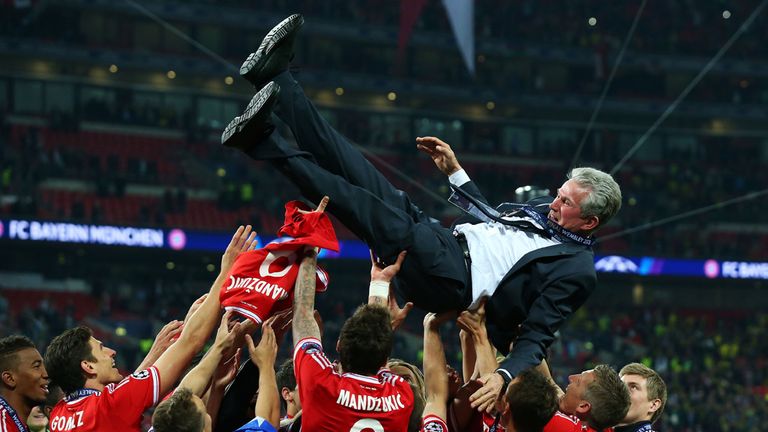 The two-time beaten finalists made it third time lucky, thanks to Robben's late winner over Borussia Dortmund at Wembley, the trophy complementing a record-breaking triumph in the Bundesliga.
Now only Stuttgart, in next weekend's German Cup final, stand in the way of what would be a stunning hat-trick and Robben is determined to see the departing boss go out on a further high.
"This is the perfect season, and we can finish it off next week," the Dutch winger said. "If we win the cup final, then we will win the treble and that's our target.
"I am very proud, proud to be part of this team and to finally win this Champions League is a dream come true."
Bayern's Germany midfielder Thomas Muller echoed Robben's sentiments, insisting Bayern would not now ease up in their efforts.
"We will enjoy this of course, especially because we were so sad last year when we lost in the final to Chelsea," Muller said.
"But we want to keep going to the end of the season and win the cup as well for the boss.
"He has had an incredible career and this would be the perfect way to end it.
"In fact, it's a good thing he has done his in his last season when he's 68, because if he was 25 he would have to end his career now at the peak!"
For Manuel Neuer, who is now challenging for the unofficial tag of best goalkeeper in the world, it was his first Champions League winner's medal to add to his first Bundesliga title.
"To win two titles in one year is incredible, now we have a great chance of three trophies which is unbelievable," he said.
Another player who did much to secure the trophy was Javi Martinez, the Spanish midfielder who was one of four relatively unheralded players who arrived in Munich last summer - along with Dante, Xherdan Shaqiri and Mandzukic - and has transformed the team.
Not only is the treble in sight but Bayern have smashed records for points and goal difference in the Bundesliga.
Martinez said: "You couldn't really ask for more in my first year, it's incredible.
"We are now the best team in Europe, and we hope we can remain there in the coming years."