Borussia Dortmund will not sell Robert Lewandowski to Bayern Munich
Michael Zorc insists Borussia Dortmund will not sell Robert Lewandowski to Bayern Munich this summer.
Last Updated: 09/06/13 7:37pm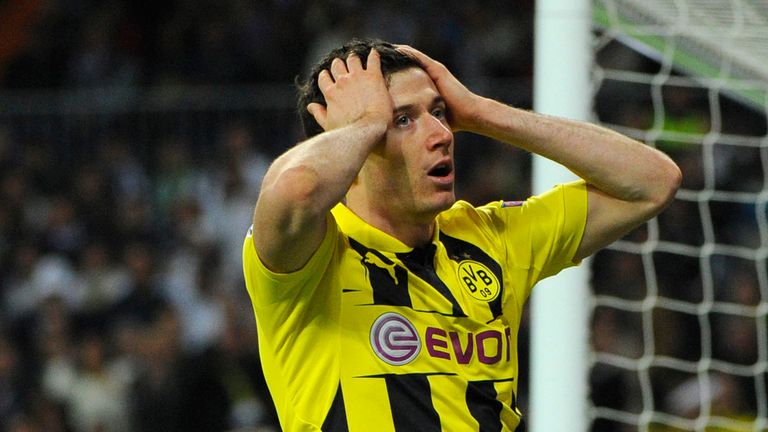 The Poland striker's mooted move to the European champions appeared to move a step closer this week when the player confirmed he expected to complete a transfer to "my dream club" this summer.
Yet Dortmund on Sunday night indicated their willingness to forego an expected transfer income of 25 to 30 million euros by stating Lewandowski must honour his contract, which runs to the summer of 2014.
"We have communicated to the player and his advisers that we will not agree to a transfer to FC Bayern this summer," Zorc told Kicker.
Dortmund's stance means Lewandowski, 24, will likely leave on a free at the end of next season - with Bayern remaining his most likely destination.
Dortmund are keen to avoid losing another star name to recent treble-winners Bayern, who have already raided their ranks once in a last few weeks to secure the signing of highly-rated midfielder Mario Gotze.
The announcement will nevertheless be a personal setback to Lewandowski, who said this week that he wanted a "new challenge for my future" and that a transfer this summer "would be the best for everybody involved".
Zorc, however, does not expect to see Lewandowski playing with anything less than full commitment next season.
"There will be with him now perhaps a small phase of disappointment," said Zorc. "But then he will deliver his usual performance, as does a professional with character... and Robert has a whole lot of character."
The Poland striker scored 24 goals in the Bundesliga and 10 in the Champions League this season.