Arjen Robben insists Bayern will improve after 3-1 Bundesliga win over Monchengladbach
Bayern Munich ace Arjen Robben is urging fans to be patient after claiming the side will improve over the season.
Last Updated: 10/08/13 10:56am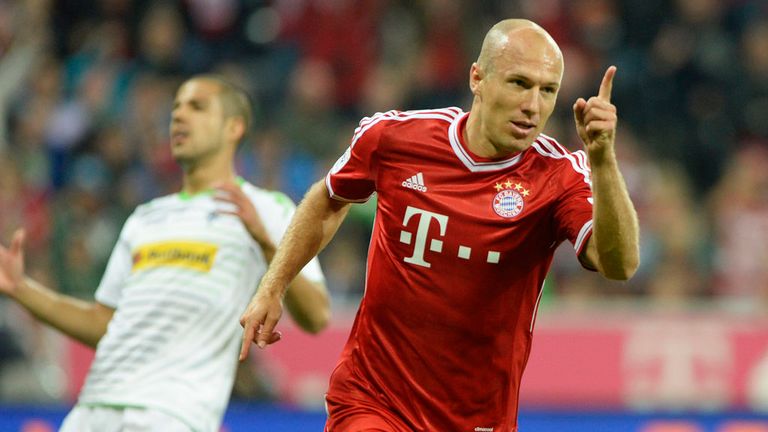 That was the Dutchman's message from Munich after the German champions started the defence of their Bundesliga title with a 3-1 win over Borussia Monchengladbach on Friday night.
The win in Pep Guardiola's first competitive game on the Bayern bench was resounding after they took a two-goal lead after 16 minutes.
And despite displaying a clear level of superiority, the general feeling in the Bayern camp is that they can, and will, do much better.
"The important thing is that we always want to play dominantly and we want to put pressure on going forwards and be aggressive. We did that partly well tonight," said opening goalscorer Robben.
"It's only normal that when a new coach comes, there are minor changes and these need time.
"We are not where we have to be yet. Some things can still improve. We will get better in the coming weeks."
Guardiola was still "very satisfied" with his first Bundesliga outing which may not be enough to give Bayern top spot after one round of matches, but puts them on course to be there when it matters.
"We needed a good result to have some peace and quiet," said the Catalan.
"We still need time, but when you are at the biggest club in the world like FC Bayern, you don't have time.
"We need to get the first two or three wins under our belts for our confidence and for the coach's confidence, and now we can prepare to face Eintracht Frankfurt in peace."
Gladbach gave as good as they got, keeping Germany international Manuel Neuer relatively busy in the Bayern goal.
His national team understudy Marc-Andre ter Stegen was in even more rousing form, however, and he was pleased with his night's work.
"We can take a lot of positives out of this game," ter Stegen also told Sky television. "We played well.
"You can lose to Bayern Munich. What is important for us is that we focus on other opponents."