Bundesliga: Nurnberg coach Michael Wiesinger eager to take on Bayern Munich
Nurnberg coach Michael Wiesinger is eagerly looking forward to facing "probably the best side in the world".
Last Updated: 23/08/13 11:36am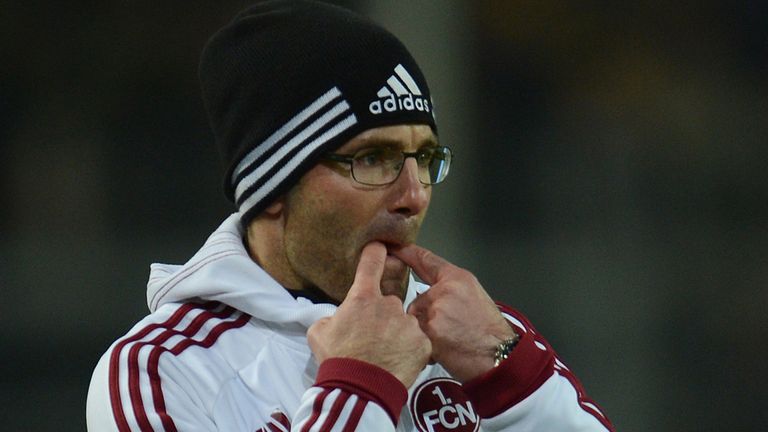 They make the short trip to Bayern Munich aware that the odds are stacked against them, but at the same time, they are looking forward to the 187th Bavarian derby.
"Bayern are strong and we want to measure ourselves up to them," said coach Michael Wiesinger.
"They are probably the best side in the world. You cannot leave them any gaps. Sometimes the weak beat the strong."
The last time that happened between these two sides in Munich was in 1992. A year later, Nurnberg beat Bayern at home with a certain Wiesinger in the squad.
Wiesinger then went on to play for Bayern and he was part of the squad which won the Champions League in 2001.
"It's a real highlight, particularly for me," Wiesinger added at a press conference. "We're not going to Munich just for sightseeing."
Bayern's 1-0 win at Eintracht Frankfurt last weekend was their 27th game in a row without defeat, setting a new club record.
They need to avoid defeat another 10 times before they set a new league record and Thomas Muller is confident they will not stumble against their local rivals.
"We're technically and tactically superior to Nurnberg and we just have to show this on the field," he said on his club's website.
The arrival of Mario Gotze from Borussia Dortmund this summer has made them even more intimidating and he could make his debut on Saturday after being sidelined through an adductor injury since April.
"I'm feeling better by the day and of course it will still take a bit of time before I find my rhythm, but I hope I start getting more action," he said.