Pep Guardiola adamant Bayern Munich were the best team in the European Super Cup
Pep Guardiola was adamant that the best team won after Bayern Munich beat Chelsea on penalties.
Last Updated: 31/08/13 12:02am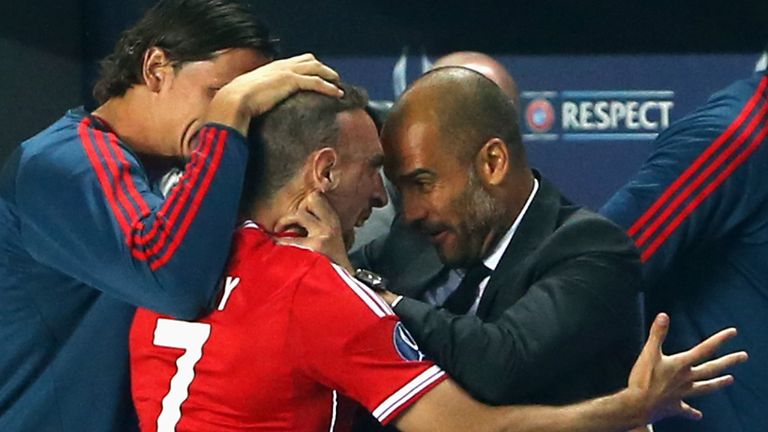 Manuel Neuer saved Romelu Lukaku's penalty after Javi Martinez's equaliser with the last kick of the game sent the tie into a shoot-out.
After the match, Chelsea boss Jose Mourinho claimed the best team had lost, particularly after his side had been reduced to 10 men on 85 minutes after Ramires was sent off.
However, Guardiola had a contrasting view of the enthralling encounter in Prague which had finished 2-2.
"It's his opinion," said Guardiola, when informed of Mourinho's thought that the best team lost. "It's normal, he can say that his team deserved better than what happened.
"I have too my opinion and my opinion after what we have played, we have our behaviour, we have played so, so well; with the ball, without the ball.
"We have played unbelievably good football. The best team won today. We had so many opportunities to score."
Guardiola declined to wade into the debate over Ramires' dismissal, the second booking coming for a challenge on Mario Gotze.
"It's a question for the referee, not for me," Guardiola said. "I am a coach. I put players on the field and I try to play as best as possible for us.
"The ref is not a question for me. I never speak about referees."
Franck Ribery had first drawn Bayern level early in the second half after Fernando Torres' fine strike had given Chelsea the lead.
France international Ribery, who won the UEFA Best Player in Europe award on Thursday, was delighted with the success.
"Of course I am very happy, especially after getting the award in Monaco, I am so happy for the entire team, it was a very special occasion," said Ribery.
"We were lucky today. I think this win helps us and will give us some impetus."