Champions League: Arsenal boss Arsene Wenger hits out at Bayern Munich's Arjen Robben
Arsenal boss Arsene Wenger has accused Arjen Robben of exaggerating the contact that led to Bayern Munich's penalty.
Last Updated: 20/02/14 2:03pm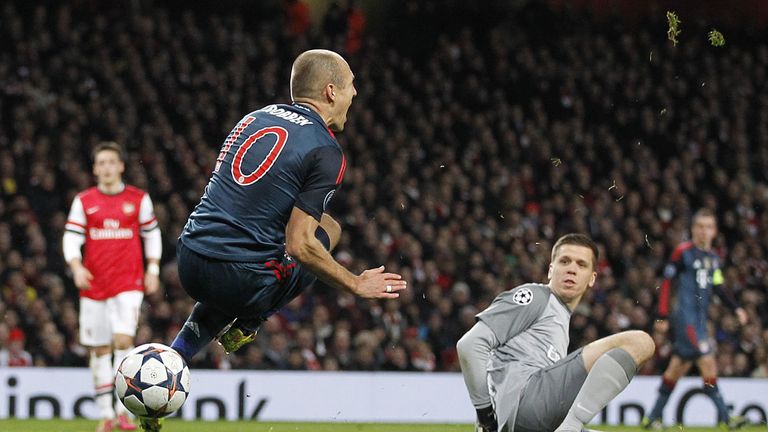 Bayern are red-hot favourites to reach the last eight after a 2-0 win at the Emirates over an Arsenal side hampered by the first-half dismissal of goalkeeper Wojciech Szczesny.
David Alaba missed the subsequent penalty but second-half goals from Toni Kroos and Thomas Muller left the Gunners with a mountain to climb.
Regarding the Bayern penalty, Wenger said Robben made a lot of the incident and that a red card as well as a penalty was overly harsh.
"It killed the game," said the Arsenal boss. "These rules are different in every country. In Italy, they send off for these kind of fouls.
"Our keeper went genuinely for the ball. He touched Robben, who certainly made more of it. I told him (Robben) afterwards.
"Wojciech misjudged the situation but there was no clear desire to make a foul, he misjudged the ball.
"Robben has enough experience to know to make more of it. Overall, I felt Bayern made more of every single contact and we are not used to it in England.
"The fouls that were given are not given in the Premier League, but we have to get used to it and accept it.
"The game delivered what it promised at the start. The game was top quality until then (the penalty) but in the second half I think it was, for neutral people, boring.
"It was one-way traffic and the referee made a decision that basically killed the game."
An angry Szczesny made an obscene gesture when leaving the field and Arsenal will be left to wait and see whether UEFA decide to take any action.
Arsenal will now need to produce something special at the Allianz Arena next month to avoid elimination, but they have cause for optimism as last year they won 2-0 in Munich at exactly the same stage of the competition.
Bayern still went through on that occasion having won the first leg 3-1, but defender Per Mertesacker prefers to look at the positives and insists his side are also mentally stronger now than they were 12 months ago.
"It's a little blow but when you look back at last year we lost here 3-1, it was a bit worse then than now, so we are looking forward to Munich and why can we not repeat that from last year," he told Sky Sports.
"Mentally we are stronger than last year."
Regarding Arsenal's performance, which saw them miss a great chance to take an eighth-minute lead when Mesut Ozil saw his penalty saved, Mertesacker believes they deserved more early on.
"I think we started really well, we would have deserved one goal at least," said the Germany international.
"There are a lot of ifs and buts, we have to take the result, it's a bit of blow for us but we have to remind ourselves of last year when we went to Munich."