Transfer news: Schalke's Julian Draxler won't rule out Bayern Munich move
Schalke midfielder Julian Draxler has refused to rule out the possibility of playing for Bayern Munich.
Last Updated: 25/02/14 5:17pm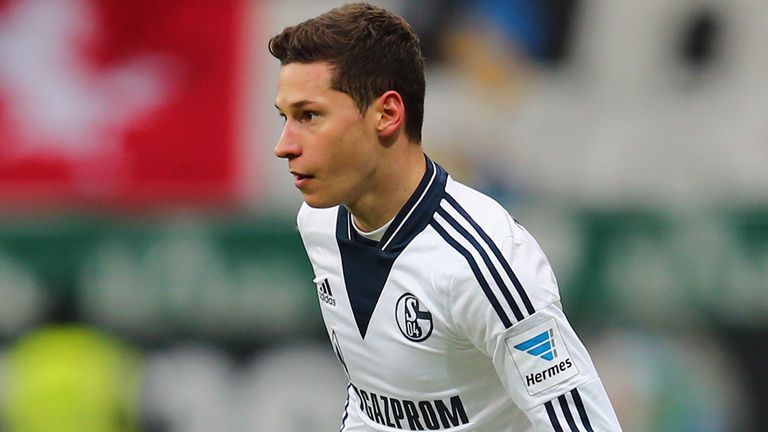 The Germany international, who last year signed a deal with Schalke until 2018, was the subject of a considerable bid from an unnamed club this winter and could leave for a set fee of 45.5million euros (£37.8million) in the summer.
Interest is growing in the 20-year-old, who became the youngest-ever Bundesliga player to make 100 appearances while still only 19 last March.
And, while chairman Clemens Tonnies hopes he can convince Draxler to stay another year with his club, earlier this month he was confident the player would not leave for the European champions.
But the player, also a reported Arsenal target, told local paper WAZ that it would be foolish to dismiss the possibility of joining Pep Guardiola's squad, having seen goalkeeper Manuel Neuer move to the Allianz Arena three years ago.
And he told www.derwesten.de on Tuesday: "I'd prefer not to comment on all those rumours.
"Look at what happened with Manuel Neuer. He was 100 per cent convinced that he would never join FC Bayern but, after having played as a pro for five years, time made him change his opinion.
"I also can't say what I will think in five or six or maybe even 10 years.
"And when you rule something out entirely and you end up playing where most people don't want you to be, the outcry is huge."
The young midfielder is as yet undecided where his future lies but believes the exit clause in his contract is a win-win situation for both himself and Schalke.
He added: "I extended my contract because I feel fine here and the long-term deal shows the appreciation and popularity I enjoy at Schalke.
"It's no secret that I have a get-out clause in the contract and so from year to year, the possibility exists, at least to think about what is best for my development.
"Of course, the clause leaves a lot of room for speculation, but it is also good for both sides.
"It's good for Schalke because the club does not have to let go of me on the cheap and, in their worst-case scenario, they would still get a lot of money for me.
"And for me it's good because I can make my own decision if a club decides to pay 45 million euros for me and I want a new challenge."
Schalke are next in action when they take on Real Madrid in the last 16 of the Champions League on Wednesday night in Gelsenkirchen.