Bayern Munich winger Arjen Robben hits back at Arsenal boss Arsene Wenger
Bayern Munich winger Arjen Robben has told Arsene Wenger to "stop complaining" after being called a diver.
Last Updated: 12/03/14 3:49pm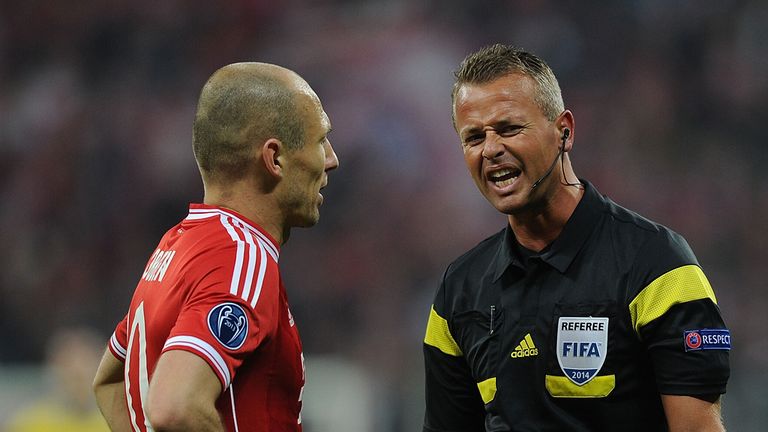 Robben earned a penalty for his side when he went to ground under a challenge from Laurent Koscielny late in the Gunner's 1-1 draw in Munich on Tuesday night - a result which confirmed their exit from the Champions League last-16.
Striker Thomas Muller failed to convert the spot-kick and the incident had little impact on the game, with Arsenal losing 3-1 on aggregate after a 2-0 defeat at the Emirates in the first leg.
And Robben told ITV Sport: "I always say that if you are a big manager then take your loss. If you win, be happy and enjoy it, but if you lose then don't start complaining about the silly things.
"I don't want to have to defend myself. From a big manager, you expect a little bit more if you lose."
Robben had fallen in the box earlier in the second half under a challenge from Santi Cazorla, but Norwegian referee Svein Oddvar Moen waved away the forward's cries for a penalty.
And Wenger said: "Robben is very good at getting the maximum out of nothing. He is a great player as well as a very good diver, but it is part of it.
"He is a fantastic player, I would not deny that. He's one of the best players in the world. But he gets in front of a player and then he slows down and goes down. He gets the free-kicks."