Champions League: Bayern Munich boss Pep Guardiola proud despite Real Madrid loss
Bayern Munich boss Pep Guardiola was proud of his side's performance, despite their 1-0 first-leg defeat to Real Madrid.
Last Updated: 23/04/14 11:07pm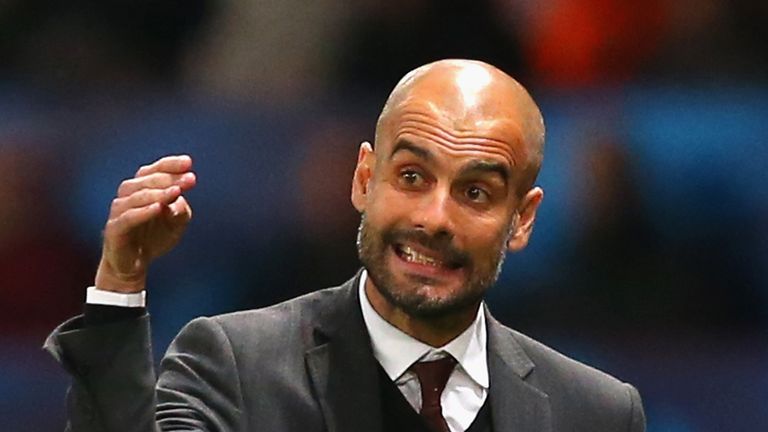 The Bundesliga champions dominated possession from kick-off - seeing 72 per cent of the ball over the 90 minutes - but were unable to make it pay as Karim Benzema's first-half strike proved to be the difference.
Madrid had their most joy on the counter-attack and that was the route for their goal as Cristiano Ronaldo fed Fabio Coentrao down the left before his ball across goal was converted with ease by Benzema from close range.
Bayern threatened late on with substitutes Thomas Muller and Mario Gotze coming close, and Guardiola saw positives in the display from his side.
"I am proud of my team," he told German broadcaster ZDF.
"They fought well against a tough opponent, one of the best in the world. We had a good game and I hope we will improve further next week.
"I did not want to have the typical German game of back and forth. I wanted a lot of possession and we managed that in parts. But we did not finish our chances well."
Ronaldo and Angel Di Maria both wasted good chances on the counter-attack and Bayern captain Philipp Lahm admitted that he and his team-mates were unable to handle Real's pace.
"We could not stop all of Real's quick breaks," said Lahm. "They are top team. It is impossible not to let them have at least one chance. We played to win we wanted a goal. Now we are trailing by one goal but it is not over yet.
"We wanted to do it better no question, but it is not that easy. We now play at home everything is possible at the Allianz Arena. We have shown we can turn games around and anything can happen."
Goalkeeper Manuel Neuer also echoed Lahm's thoughts but remained defiant that the tie is far from over as the two sides meet again in Munich next week.
"We had problems today," he said. "We worked well but these are world-class players.
"When someone is as quick as Bale or Ronaldo then you will always have problems with the counter-attacks. We can expect a similar game in Germany.
"We will try not to concede a goal in Munich. Everything can happen. We need to remain focused and not allow any quick breaks."