Clash of styles
Real Madrid's counter-attacking display earned them a 1-0 first-leg lead in their semi-final against defending champions Bayern Munich. Adam Bate was in the Bernabeu to see a clash of styles that felt like far more than just a contest between two teams...
Last Updated: 24/04/14 10:10am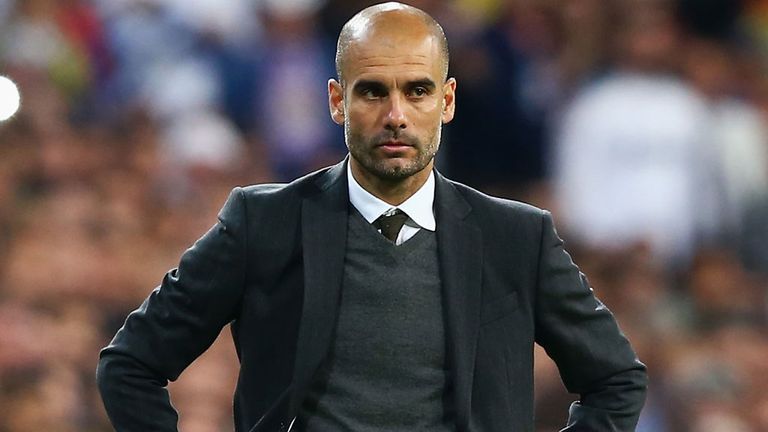 In one sense, this was just a match between two famous clubs, one Spanish and one German. Two grand old teams of the game with so much in common. But such is the debate that's been sparked, you'd think it was a battle for the soul of football itself.
Real Madrid versus Bayern Munich. Possession against counter-attack. It was a classic match-up offering an intriguing contrast in styles. Such affairs can sometimes be one way, such as when Jose Mourinho's Chelsea team not only parked the bus but stubbornly refused to get off it throughout the previous evening's game in the Spanish capital. But there was more than enough purpose and ambition to Real Madrid's breaks in the Bernabeu to ensure excitement.
Real might style themselves as 'Reyes de Europa' as the banner unfurled in the Fondo Sur prior to kick-off proudly proclaimed. But against Europe's current champions they were cast in what is perceived by some to be the emasculated role that comes with surrendering possession to the opponents - on their own turf as well.
It wasn't exactly de rigueur stuff from Europe's most successful team, still in search of that elusive 10th European crown. And certainly not from one that includes the reigning Ballon d'Or winner, Cristiano Ronaldo, in their ranks. Fans in Madrid come to see him with the ball at his feet, not chasing Germans.
Ronaldo, not fully fit after a three-week absence it should be noted, touched the ball just 16 times in the match - something Bayern's Toni Kroos had achieved before most of the crowd were settled into their seat. He also attempted just eight passes, completing six. Crucially, however, from such limited involvement, Ronaldo still managed three shots on target in his 70-minute appearance. Tellingly, the entire Bayern team had four in the whole match.
That little statistic cuts to the heart of this matter. The accepted wisdom is that possession of the ball equals control of the game. Of course, there are always exceptions that prove the rule. The UEFA Champions League itself has seen both Inter Milan and Chelsea win the tournament in recent years without dominating. In the past decade, Greece have won the Euros, Uruguay triumphed in the Copa America and Zambia have achieved unlikely success in the Africa Cup of Nations.
But it's not for nothing that the teams at the top of league tables the world over invariably rank fairly high in the possession standings, too. The law of both averages and logic suggests retaining it makes sense. But when does possession - and Bayern had plenty of it with 71.7 per cent of the ball against Real - not equal control?
The answer, it seems, is when it is as sterile as the fare served up by Pep Guardiola's side on Wednesday evening. Particularly when accompanied by unsatisfactory protection of the defence against opponents so devastatingly dangerous on the counter-attack.
With midfield dictator Bastian Schweinsteiger in an unusually advanced role, it was necessary to keep one eye on the dynamics at the other end of the pitch at all times. In more ways than one, every passing chain felt like the prelude to a 'Real' chance.
As if to highlight the absurdity of the contrast, Bayern had actually enjoyed 81 per cent possession at the precise moment Karim Benzema deposited the ball into the visitors' net. An incisive forward pass down the left channel by Ronaldo found the advancing Fabio Coentrao and the left-back bypassed the Bayern defence to gift Benzema a tap-in. It was the first significant chance of the game.
The opportunity had come more or less directly from a Kroos blocked shot at the other end. Is that unfortunate or inevitable? The problem of such patient build-up play is that there is plenty of time for bodies to get back and get in the way. It takes speed in the final third, unbelievable intricacy or an error from an opponent to create the opening. Real were not in the mood for the latter and Bayern looked too one-paced to provide the former.
Naturally, with the counter-attack it is a different story. It's quite logical that with space in behind the defence for players to attack, when a chance is fashioned it will be clearer and therefore more likely to be put away. That's exactly what Benzema did. Indeed, Ronaldo and Angel Di Maria could and should have tripled the lead between them before half-time. Real had none of the ball but all of the best chances.
Real Madrid v Bayern Munich
Team
Chances
Clear Chances
Real Madrid
9
3
Bayern Munich
15
0
This reality is reflected in the above statistics. While Bayern created chances of sorts, the clear chances came Real's way. Opta defines a big chance as "a situation where a player should reasonably be expected to score, usually in a one-on-one scenario or from very close range" - and Bayern didn't manage to fashion one of those all evening.
As it stands, Real are the only team Guardiola's side haven't created a big chance against in this season's Champions League, but given that they only managed one in three hours of football against Manchester United, the trend appears to be going in the wrong direction. By way of further contrast, Real have created the most of them in this year's competition at a rate of more than three per game. That vital away goal looks a distinct possibility in Munich.
Real Madrid coach Carlo Ancelotti, who boasts an unbeaten record against Bayern, made his point succinctly in the post-match press conference. "The game was more or less as I expected," he said. "Football is not just about controlling the ball. It's about defending, counter-attacking. We had three or four very clear chances in the first half. This team is formidable on the counter."
Guardiola agreed in words if not spirit. "Madrid are the best counter-attacking team in the world," he said. "The faster you take the ball to them, the faster it comes back at you." Later adding: "Madrid have always been a counter-attacking team, for a long time, since I was a player. They sit back and hit on the counter."
Like a vegetarian telling their partner the steak looks nice, the sense of distaste in his mouth was almost palpable. Perhaps it is understandable that Guardiola should view Real this way. After all, the last time they managed so few passes in a game was up against Pep's great Barca vintage of 2011. But a key difference is that this Bayern - for all its quality - does not have a Lionel Messi.
Against teams with men behind the ball, it requires dribbling as well as passing to unlock defences. Arjen Robben attempted eight of the 18 Bayern tried in the Real half, but completed just three of them and was well marked. His team looked devoid of ideas. "We had a lot of possession but we have to improve our final diagonal pass," Guardiola said. Always the passing.
Balance has been lost. Guardiola took over a Bayern team that had a variety of strengths. There was a physicality to their game and an incisive counter-attack of their own. Bayern scored the most goals from set-pieces in last season's Champions League. This year Atletico Madrid have scored three times as many. Only three teams scored more goals on the counter-attack last season. This year not a single strike has come via a fast break.
Bayern Munich Style Change
Goal Type
2012/13
2013/14
Open Play
19
19
Set-Piece
8
3
Counter-Attack
2
0
"Bayern Munich have become possession without purpose," said Sky Sports pundit Gary Neville. "They have to get that balance right. May seem harsh but if the imbalance continues then what is a great team can become a one-trick pony. Early warning signs are there. However, they still could go through next week. They have a great manager and team have just lost their incision."
There are 90 minutes left to find it and nobody should rule out them doing so. There appears to be an appetite in some quarters to see them fail - for the pass-masters to be foiled. But with home advantage in the second leg, Bayern remain an even-money bet to progress to the final. If they do so then they'll be huge favourites to become the first team to defend the famous trophy in the Champions League era.
Small margins for the soul of football to be decided on. Perhaps what people should really focus on is the joy of a sport that can be played - and won - in so many different ways.