Champions League: Bayern Munich winger Arjen Robben ready to face Real Madrid
Arjen Robben expects the Allianz Arena to be 'on fire' when Bayern Munich meet Real Madrid in the second leg.
Last Updated: 28/04/14 6:19pm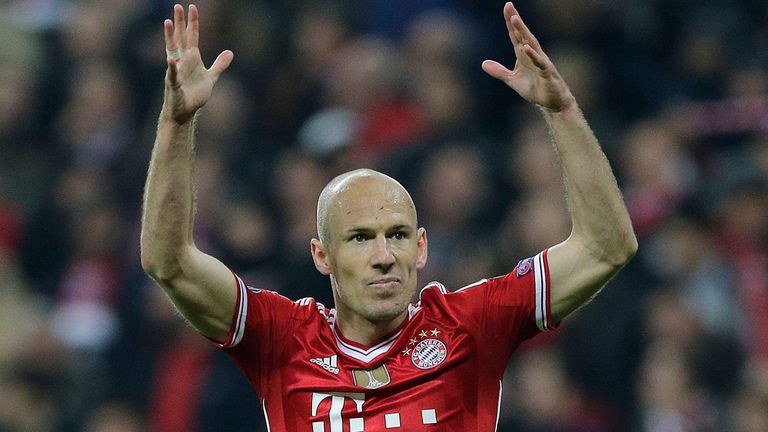 Real won 1-0 in the first leg in the Santiago Bernabeu a week ago thanks to Karim Benzema's first-half goal, while Cristiano Ronaldo and Angel Di Maria missed great chances to increase the advantage.
Bayern enjoyed plenty of possession in Madrid, but failed to turn it into goals and Pep Guardiola's side are again expected to control the game on Tuesday night.
Robben was surprised by Real's tactics in the first leg, but the Dutch winger is feeling confident as Bayern chase a fourth final appearance in five seasons.
"It is clear they will have lots of confidence because of the result in Madrid, but they know it won't be easy here," said Robben, who is trying to win the Treble for the second year in a row.
"We won't be giving anything away tomorrow. Of course they won't be worried, but they also know it won't be easy.
"The Arena in Munich will be on fire. We will give everything. We need our fans and the support.
"All 11 players on the pitch and seven on the bench will give everything and we have lots of confidence.
"We are all motivated enough. We are still hungry and we know we can write history with this team, so we are as motivated as they are. The two teams have great aims."
Real are seeking a record 10th success in the European Cup and Robben is waiting to see if his former club start with both Ronaldo and Gareth Bale.
He added: "It won't be any easier for us if Ronaldo and Bale are playing from the beginning.
"We were all surprised about their defensive play in Madrid. We have to focus on playing offensively and scoring goals, but we also have to take care of their counter-attacks."