France winger Franck Ribery announces his retirement from international duty
Last Updated: 13/08/14 7:29pm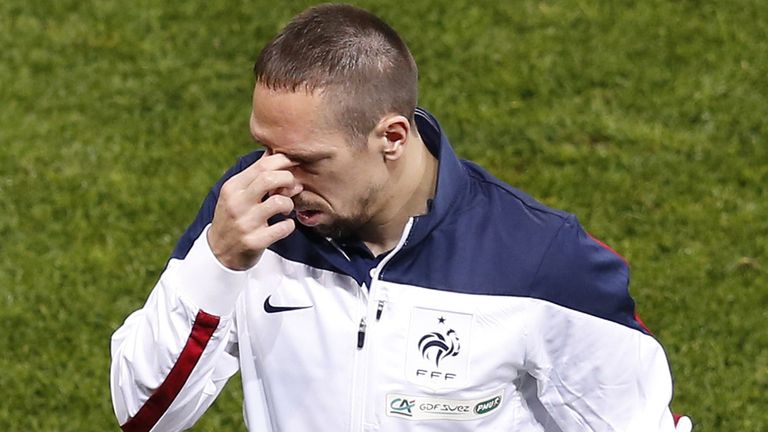 France winger Franck Ribery has announced his retirement from international duty with immediate effect.
Ribery missed this summer's World Cup in Brazil after suffering a lower back injury in training shortly before the tournament got under way - and has now decided he no longer wants to represent Les Bleus.
"I quit," Ribery said in an interview with German sports magazine Kicker. "I have found for myself that this moment has come."
The three-time French player of the year bows out of international football as his country's 14th highest capped player with 81 appearances and 16 goals.
After a successful period with the Under-21 side, he made his senior debut in a 1-0 friendly win over Mexico in May 2006 as a second-half substitute.
He appeared in every game as France reached the World Cup final later in the year but his involvement in the 2010 tournament was a complete disaster as he was given a three-match ban by the French Football Federation for his part in the team's strike.
The 31-year-old Bayern Munich player would have been France's talisman at this summer's competition in Brazil after scoring five goals in their qualification campaign.
However, injury curtailed his involvement and even the lure of a European Championship on home soil in two years' time was not enough to convince Ribery to carry on.
"It's a purely personal decision. I want to dedicate more time to my family and focus fully on Bayern Munich and leave room for all of the many great young players coming through in the national team," he added.
"You've got to know when you should retire. I've experienced a lot and now is the time for others to move to the fore, and you could see at the World Cup that we don't need to have any worries about France's future.
"There were ups and downs, but now is the time for a new part of my life."
Ribery is the second Bayern player to announce his retirement from international football this summer, with Philipp Lahm also calling time with Germany after leading them to World Cup glory.