Bundesliga: Bayern Munich's Javi Martinez out for rest of this year through injury
Last Updated: 14/08/14 3:59pm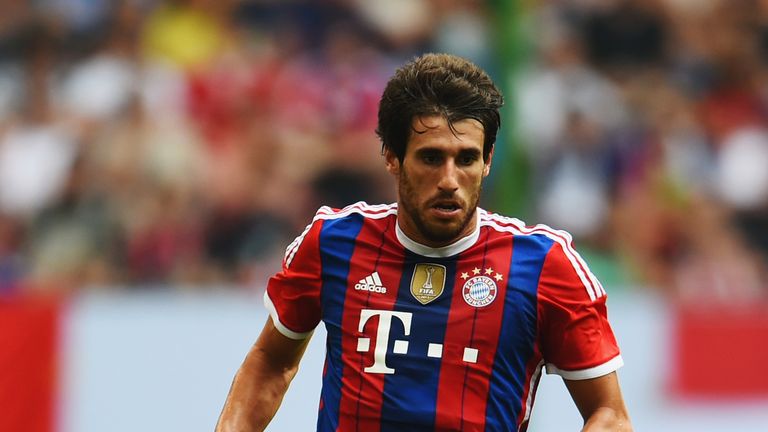 Bayern Munich midfielder Javi Martinez will not play again this year after suffering cruciate knee ligament damage during Wednesday's German Supercup defeat to Borussia Dortmund.
The Spain international was carried off on a stretcher half an hour into the match at Signal Iduna Park after staying down following an aerial challenge and tests have revealed the 25-year-old's injury is a serious one.
A Bayern statement read: "Javi Martinez and Bayern's worst fears have been realised after it was revealed the midfielder sustained a ruptured cruciate ligament in his left knee in Wednesday evening's Supercup clash in Dortmund.
"The diagnosis was issued on Thursday after the player underwent a medical conducted by FCB chief medical officer Dr Hans-Wilhelm Muller-Wohlfahrt and team doctor Dr Peter Ueblacker.
"Martinez will be out of action for at least the rest of this year."
Martinez, who joined Bayern from Athletic Bilbao in 2012, said: "Obviously I'm extremely sad at this moment, but don't worry - I'll come back even stronger!"
Bayern said the versatile midfielder is likely to fly to Vail, Colorado in the next few days for surgery to repair the damage before starting a sports rehab programme on his return to Munich.
Martinez's injury came on a forgettable night for Bayern which saw Pep Guardiola's under-strength Bundesliga champions beaten 2-0.
Goals from Henrikh Mkhitaryan and Pierre-Emerick Aubameyang were enough for Dortmund as Guardiola juggled easing his key players back into action with trying to get one over their rivals.
Out of the seven Bayern stars involved in Germany's World Cup triumph, only Manuel Neuer, Thomas Muller and Jerome Boateng started on Wednesday, while Guardiola's opposite number Jurgen Klopp was without Mats Hummels and Marco Reus.
After the game Guardiola congratulated Dortmund and insisted his side will be much better by the time the Bundesliga kicks off.
"Congratulations to Jurgen Klopp and his team," he told www.fcbayern.de. "We played well in the first 15 minutes but we had a few problems after that.
"We dropped too deep in the second half. We still need time.
Former Dortmund striker Robert Lewandowski, who was making his competitive bow for Bayern, conceded that his previous employers were the better team on the day.
He said: "It was the first match and pre-season has been tough. We wanted to win but BVB played the better football today. We need to turn our focus to the next match and I think it'll be a great deal better. I hope Javi's injury isn't serious."
Dortmund boss Klopp, meanwhile, could not be happier with his side.
Following on from their dismal 4-0 friendly defeat to Liverpool last Sunday, Klopp demanded a reaction and he got one.
"Given the stage we're at that was a fantastic performance. We are certainly not the undeserved winner," he told www.bvb.de.
"It was also about reacting to what happened against Liverpool. That we did not like because it was the complete opposite of the way we want to play football. Today I was able to recognise our football."