Bundesliga: Bayern Munich boss Pep Guardiola admits Wolfsburg will be a tough challenge
Last Updated: 21/08/14 3:12pm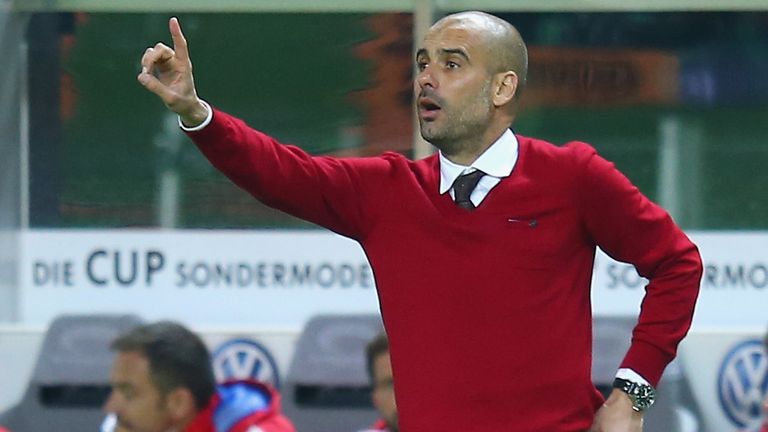 Bayern Munich coach Pep Guardiola knows his side are in for a tough start to the defence of their Bundesliga title on Friday night when they host Wolfsburg at the Allianz Arena.
The Bavarian club are bidding for a third successive league trophy but Wolfsburg, who finished fifth last season, are out to throw an early spanner in the works.
"It's not going to be easy for us," Guardiola said at a press conference in Munich on Thursday.
"We're immediately up against one of the best teams in the Bundesliga. It's not an ideal situation for us, but that's okay - we're patient and I'm not complaining."
Guardiola could well be complaining at the final whistle, though, according to Wolfsburg coach Dieter Hecking.
With six of Bayern's regulars only in training for the past few weeks after winning the World Cup last month, there could hardly be a better time to face the Bavarians, as Borussia Dortmund showed in winning the German Supercup last week.
"There is no need for us to make ourselves out to be any smaller than we are," Hecking told Kicker magazine.
"We go into this game with the best possible attitude and if they show any weaknesses we want to be there to capitalise."
The Wolves will be without their regular number one Diego Benaglio due to illness, while new arrival Nicklas Bendtner could be thrown in at the deep end with a debut in Munich.
"I'd have no problem fielding him," said Hecking, who does not have as many absences as his Bayern counterpart.
Bastian Schweinsteiger, Franck Ribery, Thiago, Javi Martinez and Rafinha are all injured while Jerome Boateng is suspended for the defending champions.
"I've got no midfielders," said Guardiola. "It's not going to be an easy start for us. It's going to be dangerous - very, very difficult.
"If we can be in a good position at the winter break, then we can have a good season."