Bayer Leverkusen chief blasts plan for Germany to tour USA in the summer
Bayer Leverkusen's general manager Wolfgang Holzhauser has questioned Germany's post-season tour of the United States.
Last Updated: 06/02/13 11:27am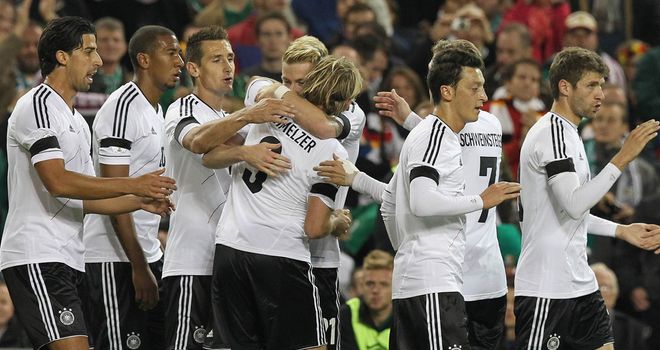 Germany will travel across the Atlantic at the end of May to play two friendly matches against Ecuador and the USA, but Holzhauser feels the trip is unnecessary.
With Bayern Munich and Borussia Dortmund likely to be exempt from releasing their players should either of them reach the final of the DFB-Pokal or Champions League, Holzhauser fears more of his squad will be called up as bit-part players, a situation he is keen to avoid.
"I really cannot fathom the sense or the reason of this trip," he said.
"And if, despite our good performances, we only have two Bayer players called up right now, it should not be any more than that for the USA trip. That would hamper our preparations and mean a shorter holiday.
"If the trip is useful in preparation for World Cup qualifying, then the best players have got to be involved, and (Germany coach) Joachim Low has stressed often enough that only Lars Bender and Andre Schurrle belong in that group, from a Bayer perspective."
Stefan Kiessling is the notable Bayer player to have been overlooked on a regular basis and Holzhauser would be particularly unhappy were he to be summoned for such a trip.
"My opinion on that is quite simple - Stefan Kiessling is 29 and he should be focusing on trying to be involved at the 2014 World Cup," he said.
"If he were to be involved now and just sit in the stands, then that is not going to help him much at all."