Bundesliga: Mario Gotze set to make Bayern Munich debut
Mario Gotze will make his competitive Bayern Munich debut against Eintracht Frankfurt in the Bundesliga this weekend.
Last Updated: 16/08/13 8:12am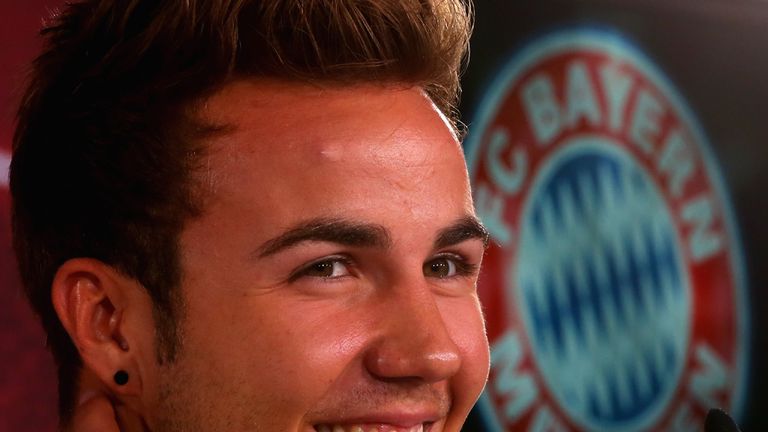 The Germany international appeared in a Bayern shirt for the first time since his contentious switch from Borussia Dortmund last Sunday in a 4-1 friendly win over Hungarian side Gyori and is now in line for his Bundesliga bow against the Eagles.
Who he could replace is the big question, but Arjen Robben for one has no fear about being dislodged.
"Our strength last season was that we never lost any quality when one player was out," he told the Bild newspaper.
"You have got to have faith in yourself and no fear of your rivals. And if during a season which culminates in a World Cup, you end up sitting out a game now and again, then it can only be positive in the end."
Robben has praised the work of new coach Pep Guardiola, who he believes can turn him into an even better player.
"He's a top coach and we're happy and proud that he's here," added Robben. "I'm benefiting a great deal.
"A man who got Barca playing such wonderful football and made Lionel Messi a better player can only teach you things. I feel his total faith in me."
Bayern can move clear at the top of the table with a victory at the Waldstadion, although Bayer Leverkusen, Werder Bremen, Mainz and Hannover will also be looking to make it two wins out of two this Saturday.
Leverkusen travel to Stuttgart, who were beaten by Mainz last Sunday, while Bremen host Augsburg, Mainz travel to Freiburg and Hannover head to Borussia Monchengladbach.
On Sunday, league leaders Hertha Berlin, who put six past Frankfurt to make an emphatic return to the top flight a week ago, travel to Nurnberg.
The final game this weekend seeing two former room-mates meet in Dortmund. Jurgen Klopp and Thorsten Lieberknecht both lived together during their playing days for Mainz and they now meet for the first time as coaches with Borussia Dortmund hosting Eintracht Braunschweig.