Bundesliga: Hertha Berlin coach Jos Luhukay loses temper after win over Mainz
Hertha Berlin coach Jos Luhukay lost his temper with reporters following Saturday's victory over Mainz.
Last Updated: 29/09/13 1:21pm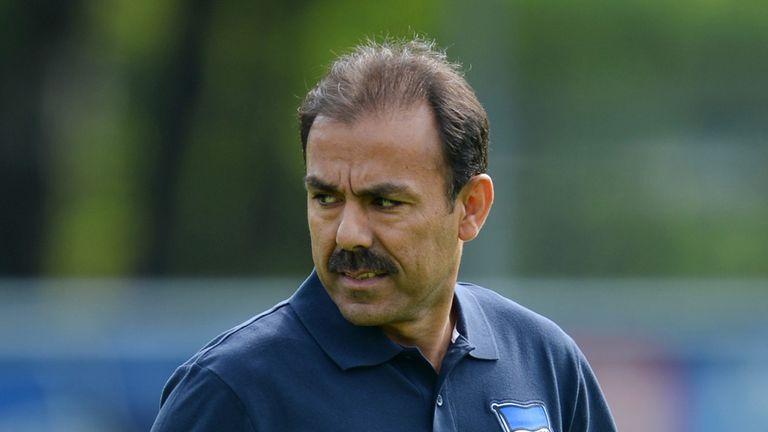 Luhukay made major alterations in midweek, paying the price with defeat to second-tier opponents, although he insisted the team he fielded was still good enough to win.
He picked his first-team regulars again on Saturday, winning 3-1 against Mainz.
"Do I need to justify myself again for Wednesday?" he asked a reporter who asked whether the team changes had been the key to victory.
"The presumed 'B' team had experience of 596 Bundesliga games and I believe they could challenge for promotion from the second division.
"It was something I had considered from A to Z."
At the same time, the Dutch coach believes not enough consideration is being paid to his side's start to the season, which he believes is nothing short of phenomenal.
Instead, he lamented how his side's victories at the Olympiastadion, which have helped lift them to fifth in the table, are being taken for granted.
"You all make it out to be normal and expected that we have won three of our four home games, losing only one in which we were still the better team," he said.
"You make it seem like Hertha are a side which can win any game in their sleep."
After losing five in a row, the same assertion cannot be made of Mainz, who slipped up in what their coach Thomas Tuchel branded their biggest game of the season so far.
"This defeat hurts us all," he said.
"We came into this game believing it was an absolutely fundamental match. Well, we've lost this fundamental match.
"We've got a lot to learn and we've got to be self-critical and try to turn things around next week."
It was the first time in Tuchel's four-year reign that his side have lost four consecutive Bundesliga matches, and the disappointment is all the greater since they won their first three of the season.