Bundesliga weekend preview: Bayern Munich coach Pep Guardiola eyes celebration
Oktoberfest follows Bayern Munich's clash with Wolfsburg this Saturday, and Pep Guardiola is in the mood to celebrate.
Last Updated: 27/09/13 7:36am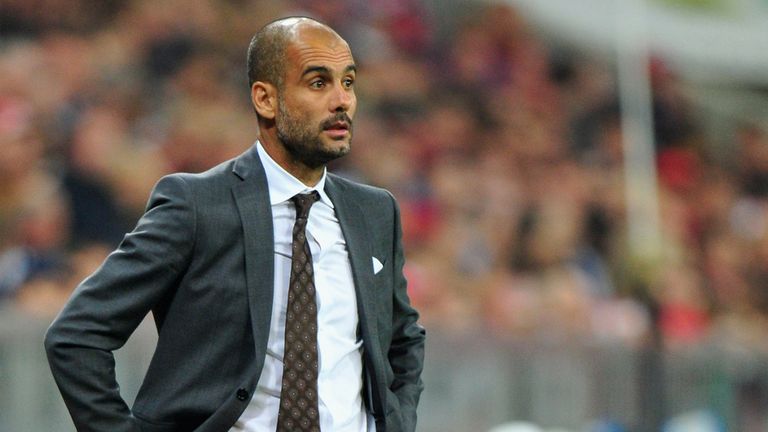 The defending champions moved level with Borussia Dortmund at the top of the table last weekend while they are now looking to move clear before hitting the city's beer festival.
"Beer and party, Lederhosen and women in their frocks - it's going to be great," said Bayern coach Pep Guardiola, who is ready for his first full immersion in Bavarian traditions and folklore.
"Can I trust my players during this time?" he asked Bayern's press officer Markus Horwick during a press conference.
"I'm looking forward to experiencing these three weeks. You can trust me."
Bayern's first two games during the beer festival were a 4-0 win at Schalke before a 4-1 triumph over Hannover and a third this weekend would put the pressure on Dortmund, who host Freiburg.
Midfielder Arjen Robben expects the clubs to advance step by step right up until May.
"The Bundesliga's not going to be boring," he said.
It is not boring behind the top two either with Bayer Leverkusen lurking a point behind and three points ahead of their next opponents Hannover, who have lost their two away games so far this season while winning four at home.
Borussia Monchengladbach have a similar record with three home wins and three defeats on their travels and they will be looking to redress that issue in the weekend's first game at Augsburg on Friday night.
Elsewhere, Schalke will be bidding to bounce back from their defeat to Bayern when they travel to Hoffenheim while Bert van Marwijk sits on the Hamburg bench for the first time when they travel to Eintracht Frankfurt.
Hertha Berlin and Mainz, who were both knocked out of the DFB-Pokal this week, meet in the capital while Sunday's games see Werder Bremen entertain Nurnberg and Eintracht Braunschweig look for their first win of the season at home to Stuttgart, who were also eliminated from the cup on Wednesday.