Mancienne a proud captain
Michael Mancienne has declared that he wants to keep the England Under-21 captaincy against Czech Republic.
Last Updated: 17/06/11 3:32pm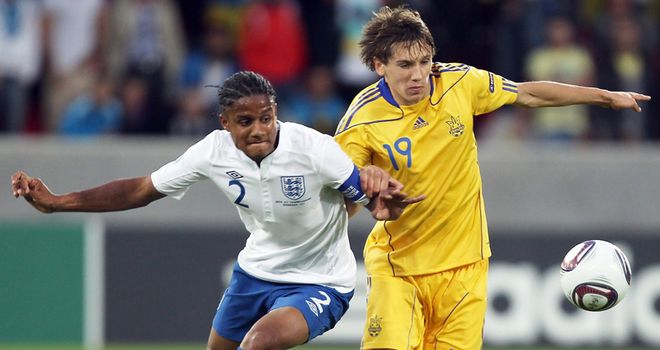 Michael Mancienne has declared that he wants to keep the England Under-21 captaincy for Sunday's must-win game against Czech Republic.
The versatile Mancienne was handed the armband for the opening 1-1 draw with Spain but his performance was criticised and there was speculation he could lose his place in the side.
Having retained the faith of manager Stuart Pearce for Wednesday's goalless stalemate against Ukraine, Mancienne is determined to lead the side out again this weekend.
"To captain your country at any level is a massive honour, but to be given the chance to do it at a major championship is an even bigger one," said Mancienne, who will play for Hamburg next season after joining the Bundesliga club from Chelsea.
"It's a big responsibility and one I don't take lightly.
"I want to keep it. I want to do well for my country and I want to do well for my team.
"I want us to get to the final so badly. I want us to win this tournament and do really well."
Terry inspiration
Mancienne grew up with the ideal captaincy role model in former Chelsea team-mate John Terry.
"I have watched him most of my career," said Mancienne. "He's a massive inspiration to me.
"Having the chance to train with him and learn from him has helped my career massively.
"I like the way he dominates on the pitch vocally and in terms of his performance. He leads by example and he's a great leader."
Mancienne insisted he had given no thought to losing the captaincy after the Spain game, but added: "I was just concentrating on trying to stay in the team.
"The manager picks the team and has some tough decisions to make because there's a lot of talent in the squad and a lot of talent sitting on the bench."
Big performance needed
England find themselves third in Group B ahead of the clash with Czech Republic on Sunday and need to pick up three points to progress to the semi-finals.
Mancienne added: "It's not great because we've made it hard for ourselves going into the last game.
"We could have played a lot better against Ukraine and moved the ball a lot better.
"On the positive side, we didn't concede any goals and that's important.
"Hopefully, we'll win on Sunday and kick on from there.
"But, to be honest, we haven't really got going yet and we need a big performance against Czech Republic."