Djourou wants Gunners reaction
Johan Djourou has warned his Arsenal team-mates they have to be at their best or risk defeat against Chelsea.
Last Updated: 17/04/12 4:41pm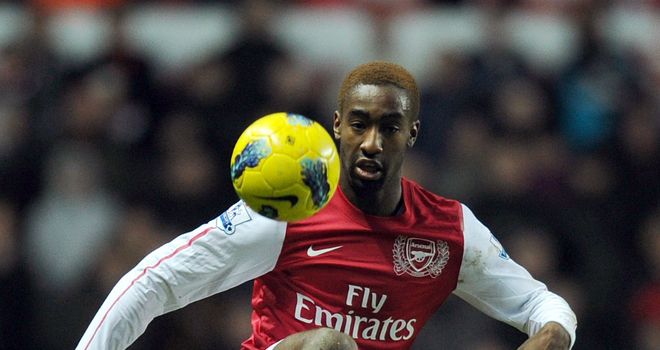 Johan Djourou has warned his Arsenal team-mates they will have to be at their best or risk a second successive home defeat against Chelsea.
The Gunners had been in imperious form - winning nine of their last 10 Premier League games - before Monday's 2-1 defeat against Wigan.
It was a loss that raised eyebrows around the country as some poor periods of play were capitalised on by a resurgent Wigan.
Chelsea will arrive at the Emirates on Saturday fresh from their encounter against Barcelona on Wednesday in the UEFA Champions League semi-final first-leg.
Tottenham and Newcastle are both five points behind the Gunners, but have a game in hand, and the Switzerland international is concerned a loss on Saturday could jeopardise their hopes of a top-four finish.
Fatigue
"Technically we were not good against Wigan and were missing sharpness in our passes. It is difficult to win games when you are like that," Djourou told Arsenal Player.
"Maybe it was a bit of fatigue, but we all know Saturday is very important and we have to show up for this one.
"We would rather be in this situation than where the others are.
"The most important thing is to come back stronger, and what better chance to do it than against Chelsea?"
Chelsea's clash against the Champions League holders is sure to be a mentally and physically challenging encounter for them.
Focused
Djourou, however, expects Roberto Di Matteo's team to be fully focused on the league encounter as they try and cement entry into Europe's top club competition next season through their league placing.
"Chelsea still want to have Champions League football next season as well so we know it is going to be a tough game," he said.
"Obviously they have a lot of fixtures, the two Barcelona games is maybe a plus for us, but we don't really concentrate on that.
"We have to be focused on our game and be focused on what we do best."