Johan Djourou has been impressed by the impact new assistant manager Steve Bould has had at Arsenal
Johan Djourou believes Arsenal can achieve 'big things' with Steve Bould as Arsene Wenger's assistant manager.
Last Updated: 28/09/12 9:21am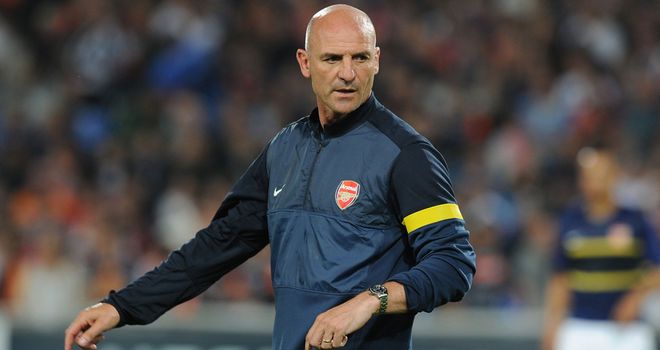 Former Gunners centre-back Bould replaced Pat Rice as Wenger's No.2 in the summer and appears to have made an immediate impression on the club's defence, with just two goals conceded in their opening five games.
Djourou has hailed the impact Bould has had at the club so far and is pleased to see the team defending from the front.
The Switzerland international told the Daily Mirror: "Pat Rice was great, but because of the way Steve played the game, it's just a massive positive for us.
"Steve works on team shape. With Arsenal, people have always blamed the defence for our problems, which I have always felt has been pretty harsh.
"With Steve joining Mr Wenger, it is not only the defence that protects the team - it starts from the front.
"Our midfielders, Mikel Arteta and Abou Diaby, have been doing a great job protecting the defence and that's what you need at this level.
"The guys are also working hard up front.
"Now it is the whole team that defends. There is a massive difference now to what we had before."
Big things
He added: "Steve is a great coach and, to be honest, I believe we can achieve some big things with our manager and with him.
"He [Bould] was my first manager in the U-15s and U-17s and I have always had a great respect for him."
Djourou, who made his first appearance for the Gunners this season as he captained them to a 6-1 thrashing of Coventry in the Capital One Cup on Wednesday night, spent most of last season playing on the right rather than his favoured centre-half position.
But the 25-year-old sees his future at the heart of defence, adding: "People have forgotten that I am not a right-back. I took a lot of criticism last year for that, because I was playing out of position.
"When you play there for as long as I did last season people assume it IS your position. But it's not. So, for me, it was a difficult season last year.
"As a player, I didn't complain about being right-back because I am a team player - I would do anything for my team, for my manager and for my club."