Bundesliga weekend preview
Stuttgart will be aiming to recover from the worst start to a season in their history when they travel to Nurnberg on Saturday.
Last Updated: 28/09/12 3:03pm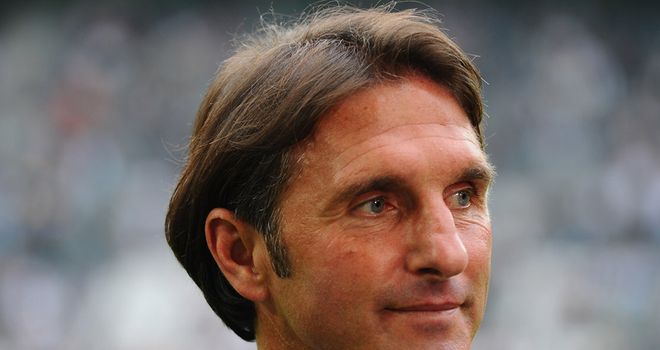 Stuttgart will be aiming to recover from the worst start to a season in their history when they travel to Nurnberg on Saturday.
Bruno Labbadia's side have picked up just two points from their first five games, scoring only three goals and conceding 12, three of which came in a 3-0 home defeat to local rivals Hoffenheim on Wednesday night.
"There is no glossing over it, we were poor from start to finish," said striker and club captain Cacau. "Memories of two years ago are being revived and I don't want to experience another situation like that."
The Germany international was referring to a year in which the coach was changed three times before Labbadia finally arrived and lifted them from second-bottom at the midway stage of the campaign to safety.
Cacau hopes it does not get so bad this season.
"It is a mental problem," he suggested. "We have got to put this game behind us quickly and move on."
Augsburg are in an even worse situation with just one point from their first five games, and they travel to the side who put Stuttgart to the sword.
Two wins in a row have lifted Hoffenheim off the foot of the table and shown how quickly things can change at this early stage of the Bundesliga season.
Hamburg have also edged away from the bottom, although they only just failed to follow Hoffenheim's example as a late Alvaro Dominguez goal denied them a win at Borussia Monchengladbach.
Despite that late equaliser, Gladbach's director of sport Max Eberl is worried about his club's form going into their trip to Borussia Dortmund on Saturday evening.
"We have seen a dangerous development in recent days," he said. "We have all got to take two or three steps back to find a basis again."
Such a basis has already been found by the league's newcomers Fortuna Dusseldorf, who are the only side yet to have conceded a goal this season.
Schalke are the next club to test that record on Friday night when the Dusseldorf Arena will be full for the first time this season after crowd restrictions were lifted.
The Royal Blues can move up to second with a win, yet nothing currently seems capable of stopping the league leaders Bayern Munich, who travel to Werder Bremen on Saturday.
Or perhaps there is something.
A flu virus is currently doing the rounds in Munich with Bastian Schweinsteiger, Daniel van Buyten, Holger Badstuber and Franck Ribery reported to be out of action and doubts for Saturday's trip north.
Eintracht Frankfurt are Bayern's nearest rivals after four wins and a draw in their first five games of the season and they host Freiburg on Sunday.
Elsewhere, Bayer Leverkusen host Greuther Furth and Hamburg are at home to northern Germany rivals Hannover on Saturday while Wolfsburg entertain Mainz on Sunday evening.