Paul Scharner insists Wigan focus on Premier League ahead of FA Cup semi-final
Paul Scharner believes Wigan's FA Cup semi-final with Millwall can offer welcome respite from the battle for survival.
Last Updated: 13/04/13 5:47pm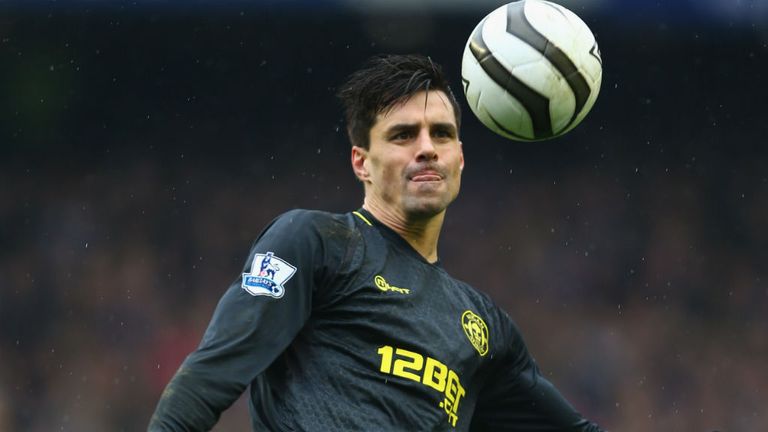 Robert Martinez's side have picked up seven points from their three league matches since beating Everton in the quarter-finals but they still remain in the relegation places in the top-flight.
Scharner insists the trip to Wembley will not distract them from their league campaign though, describing it as a "little island" away from the relegation scrap.
"Of course (survival is the priority) because it's the future for Wigan and it brings the money to run the business," said the Austria international.
"But I don't see a problem to be in the semis and fight against relegation because it's a little island outside of the relegation fight to enjoy another football match.
"I think every single player should enjoy their time there because it's not very often you're playing at Wembley with Wigan in an FA Cup semi-final.
"It's a different pressure. We have the relegation pressure, which is very hard to handle to be honest because you have to get the points to stay up and secure the future. This is different because it's one match.
"Wigan has a lot of experience now in the relegation fight. It does bring also pressure on you because everybody's expecting Wigan to survive again. What we need to focus on in the last seven games is get nine points, that's it."
Scharner spent four-and-a-half years with the Latics before leaving for West Brom in 2010 but he is back on loan from current side Hamburg until the end of the season and looking forward to the Wembley experience.
"The cup was in my mind when I signed the contract on January 31 because Wigan were already in the quarter-finals, so I did think about it because I never played at Wembley," he added.
"The FA Cup is one of the biggest occasions in world football so everybody knows Wembley. It will be a very nice experience for me."
Wigan defender Emmerson Boyce is also looking forward to Saturday's game but insists they will not take Championship side Millwall lightly.
"We're not going to underestimate Millwall," he said.
"They'll go into the semi-final thinking they've got a great chance of beating us so we've got to go there and put in a professional performance and it's going to be a hard game no matter what.
"It's up to us to take the game to them and get the result that we need. For the first time probably all the pressure's on Wigan."