Bundesliga: Bert van Marwijk targets top-six finish for Hamburg
Bert van Marwijk has set his sights on restoring Hamburg to the top six of German football.
Last Updated: 25/09/13 1:50pm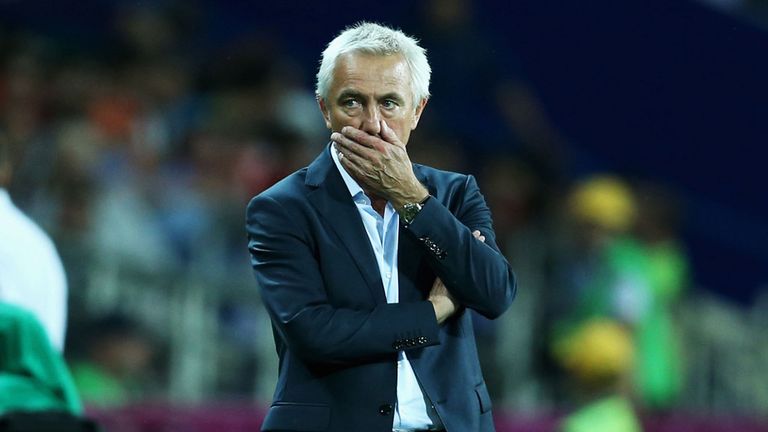 The Dutchman inherits a side which have been lagging behind their own expectations in recent years and which find themselves inside the bottom three of the Bundesliga after six games of the season.
Their rightful place is in Europe, according to Van Marwijk, who has vowed to do all he can to get them back there as quickly as possible.
"Our short-term aim is Saturday's game, but if everything goes according to plan, then Hamburg can say a thing or two at the top," he said.
"We're aiming for the top six."
Van Marwijk has been out of work since leaving his role as coach of the Netherlands after Euro 2012 and he said he was waiting for the right offer to arrive.
The one which came from Hamburg last Tuesday was precisely that with the former Borussia Dortmund coach delighted to be back in the Bundesliga.
"I've got a good feeling with Hamburg," he said.
"It's going to be a challenge. I did have other offers, but I had to have the right feeling.
"Of the top leagues in Europe, the Bundesliga has become the best."
His new team did him a big favour on Tuesday night by winning their potentially tricky DFB-Pokal second-round tie against Greuther Furth and, with that morale-boosting win in the system, he is optimistic about the trip to Frankfurt on Saturday.
"It was very important for the team and for me that they won," Van Marwijk said.
"I was pleased with the way they played, although that does not mean we will play in the same way.
"I am a fan of attacking football, but I also like well-organised football. We have got to learn to defend as a team and we can do that through training, training and more training."
The 61-year-old hopped from the press conference room to the training field to put his words into practice after meeting the media, leading his first training session as Hamburg coach under the weight of the northern city's expectations.
"I'm not the kind to run away from pressure," he said.
"I like pressure and I think this team needs pressure. When you are under pressure, you perform better."