Bundesliga: Hamburg boss Mirko Slomka is confident his side can avoid relegation
New Hamburg boss Mirko Slomka is confident that his side can beat the drop this season.
Last Updated: 17/02/14 6:36pm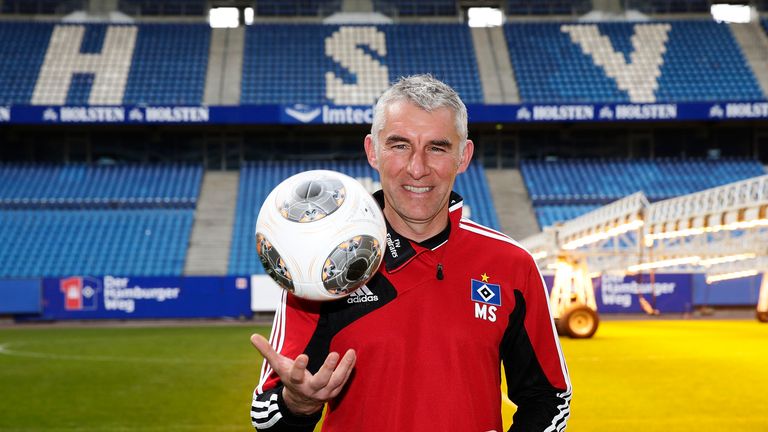 The former Hannover coach has been given a contract until 2016, valid for both the top flight and the 2. Bundesliga, although he is not considering the second alternative.
"Our first priority has got to be to stay in the Bundesliga," he said at a press conference. "Even if I would be prepared to work in the second division, that's not something I'm dealing with.
"I expect us to avoid relegation."
Slomka has a proven pedigree in saving clubs from the drop having taken Hannover from what appeared to be a hopeless position to survival on the final day of the 2009/10 season.
He lost his first six games in charge of the Reds before eventually turning the corner and, after survival, leading them to fourth the following season, qualifying for the Europa League.
Aside from the opening six defeats, which Hamburg can ill afford after losing their last seven in the league, a similar development would be what everybody in the northern Germany city is craving for.
"When a club like Hamburg calls, then of course you want to get started right away," said the 46-year-old.
"They're a fantastic club with a great team and competent staff. These next weeks and months are going to be intense, but that's precisely what I became a coach for.
"Hamburg should be one of the top five clubs in the country. This is a great challenge."
Restoring the club to their former glories should not take too much work either, according to Slomka.
"Only a few minor tweaks are required to get us back to being successful," he said.
"I have faith in the team. The players have quality which we've got to tease out of them."
That must be done in just five days before Hannover face third-placed Borussia Dortmund, an unenviable debut that the new Hamburg coach is taking in his stride.
"Dortmund are fantastic opponents for us to show that there's still life in this team," Slomka said. "Maybe Saturday's game is a good chance for us."
Having conceded 19 goals in their last six games to slip to within a point of the foot of the table, and two adrift of safety, things could hardly get any worse for a Hamburg side keen to preserve their unblemished 50-year Bundesliga record, now under their third coach of the season after Thorsten Fink and Bert van Marwijk.