German Bundesliga: Julian Draxler and Schalke look for response v Bayern Munich
Schalke need to respond quickly after their humbling at the hands of Real Madrid as they prepare to face Bayern Munich.
Last Updated: 28/02/14 10:34am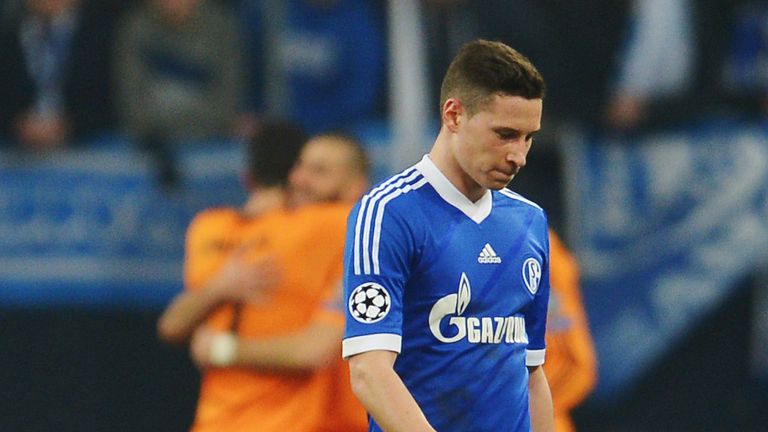 Unbeaten in 2014, the Royal Blues were brought crashing back down to earth by the Spaniards to see their Champions League campaign practically ended at the Arena AufSchalke in midweek.
Qualifying for the competition again next season is the new priority, and the seemingly unbeatable Bayern lie in wait.
"We must never make the mistakes we made against Real again," said Schalke's director of sport Horst Heldt.
"Our next opponents are probably even stronger. Bayern are even more compact and leave their opponents all but no chance at all.
"We travel to Munich to get a good result. It would be wrong for us to say we're going there only for damage limitation.
"There are points on offer in every game, but of course everybody knows how difficult it is against Bayern."
Four wins and a draw in 2014 had nevertheless shown Schalke making excellent progress before Wednesday's reverse and they will travel to Munich with the belief that they can do what no other German side has done since October 2012 - beat the Bavarians.
"There's nothing else we can do but put this game behind us," said midfielder Julian Draxler.
"We've got to get it out of our heads quickly and prepare to face Bayern."
Schalke, currently in fourth place, hold a two-point advantage over fifth-placed Wolfsburg in the race for a place in the Champions League next season.
Wolfsburg are not in action until Sunday, when they travel to Hoffenheim.
Bayer Leverkusen are currently second, two points above Schalke, but reeling from a run of four defeats in 10 days which saw them eliminated from the DFB-Pokal and pushed to the verge of exiting the Champions League.
They will look to buck that trend at home to Mainz, who are only a point behind the top six and still in the hunt for a place in Europe themselves.
Third-placed Borussia Dortmund host a resurgent Nurnberg, who moved four points clear of the relegation zone with their fourth win in five games last weekend having needed 18 matches to win for the first time.
Hamburg won for the first time in eight games last weekend, breaking a seven-game losing streak with a 3-0 win over Dortmund, but they remain inside the bottom three and will be keen to move out with a win in their match against Werder Bremen on Saturday.
Stuttgart could find themselves in the relegation zone when they travel to Eintracht Frankfurt on Sunday, looking to end their own seven-game losing streak.
Finally, high-flying Augsburg host Hannover, who have been beaten three times in a row and are only five points above the drop zone.