Wolfsburg v Bayern Munich team news
Bayern Munich coach Jupp Heynckes says he is delighted to be able to select Bastian Schweinsteiger to face Wolfsburg.
Last Updated: 14/02/13 11:20pm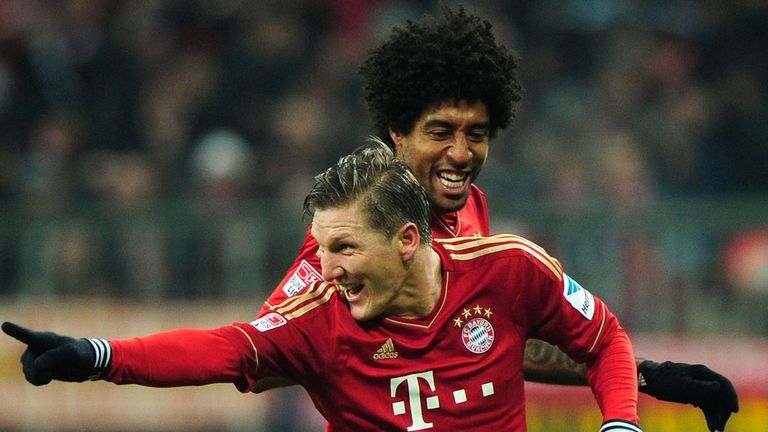 Germany's World Cup winner Olaf Thon claimed that the 28-year-old's career is on a downward spiral and predicted he will soon lose his place for club and country.
However, Heynckes believes he is still the best midfielder in the world, and he will not be taking any notice of Thon's criticism.
"For me, Bastian Schweinsteiger is a big strategist, a director," he said. "Just as a film director has his script, he has his match plan.
"Just look at Barcelona, the club everybody measures themselves against. They have a certain Sergio Busquets who is a fantastic player and he has never dribbled in his whole life.
"Why not? Because you have got to have somebody who shifts the play and can link up. That is precisely what Schweinsteiger does, which is why I am not paying any attention to this criticism.
"I am delighted to have him. Together with Busquets, he is the best midfielder in the world."
Schweinsteiger will get the chance to prove that tomorrow night, although he will not have his defensive midfield decoy Javi Martinez alongside him.
The Spaniard misses out with an injury which Heynckes hopes will not rule him out of next week's Champions League clash with Arsenal.
"He was going to start tomorrow, but he can't," said the Bayern coach. We'll have to see if he can be involved (against Arsenal)."
Bayern's loss is Wolfsburg's gain as they hope to take advantage of what may consequently be a slightly weaker Bayern side.
The Wolves are one of 11 clubs duelling for two Europa League berths, but their coach Dieter Hecking knows tomorrow night will be an acid test for his side.
"We know that we have got to get a lot right to have any chance against Bayern," he said.
"They are a fantastic team. They have incredible quality and hardly make any mistakes and if you let them play, then you have no chance.
"But it's not about Bayern, but about ourselves. We have room for improvement which is why it is a big challenge we are facing to see how far we have come."
Hecking has already frustrated Bayern this season with his former club Nurnberg, who remain the only home team to have scored against the record champions in a 1-1 draw.
"That game shows that, as long as it remains 0-1, you always have a chance," said Hecking.
"I would be happy if they have conceded one or two more goals after their trip here."