Neven Subotic hoping Borussia Dortmund's European run continues
Neven Subotic hopes Borussia Dortmund can prolong their European adventure after making Champions League quarter-finals.
Last Updated: 05/03/13 10:44pm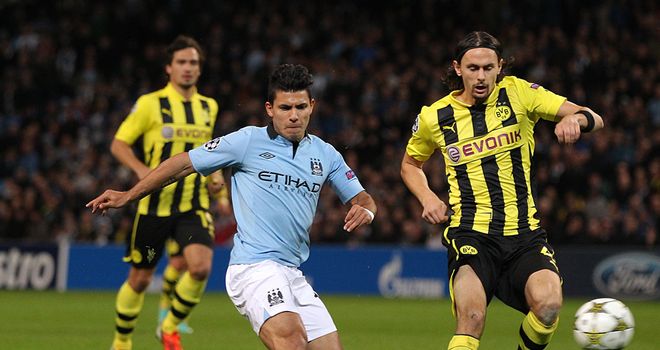 The German giants booked their place in the last eight on Tuesday with a 3-0 victory over Shakhtar Donetsk, with a comfortable win on home soil seeing them wrap up a 5-2 aggregate success.
Dortmund have been tipped by many to go all the way this season, and Subotic feels anything is possible when you take into account how Dortmund have fared in their continental campaign so far.
Asked if it could be their year, the Serbian centre-half told Sky Sports: "We certainly hope so. We are in good form.
"We showed today that we can win against a team that is used to playing in the Champions League - they have played the last four or five years every time. We also showed that being in a tough group we can come out on top.
"It's definitely, so far, been our season in the Champions League and we hope to prolong that for as long as we can."
Dortmund lifted the European Cup back in 1997 and Subotic feels their display against Shakhtar in midweek suggests that they are capable of replicating those heroics.
He added: "I am really happy with the way that we showed up. I think that, starting with the first half, we just came out and started playing ball. We weren't ashamed to play against a big team that is used to playing Champions League.
"For us, it was the first time that we have got so far, to get a chance to go through. It was a unique situation but I think we made the best of it.
"We played calm and played good. I think they played too safe in the first half and that led to us going up there and scoring two goals."