Gundogan key
Much has been made of Borussia Dortmund's creative triumvirate of Mario Gotze, Marco Reus and Jakub Blaszczykowski, and of their prolific target man Robert Lewandowski, but the real key cog in their team has been almost ignored on these shores.
By Oliver Todd
Last Updated: 03/04/13 9:54am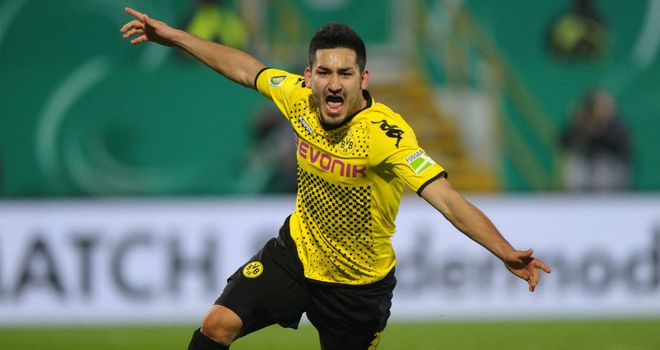 Ilkay Gundogan has reportedly been quietly drawing admiring glances from the likes of Barcelona and Manchester City but has avoided the majority of the public spotlight that has shone on this young talented Dortmund side that has taken the Champions League by storm.
Born in Germany, but to Turkish parents, Gundogan is now making an impact for the national side, doing what few can and acting as a replacement for Bastian Schweinsteiger. His performances have been so well received that manager Joachim Low has labelled him as a player that he believes has "the potential to be world class", whilst his goal in the World Cup qualifier win over Kazakhstan further showcased his rising stock in the national side.
It says enough about the 22-year-old that he has easily found a place in the Dortmund side following the departure of Shinji Kagawa to Manchester United, as well as keeping Nuri Sahin out of the side following his return after a disappointing loan spell at Liverpool.
Rising star
In fact, Gundogan is increasingly becoming indispensable: he has been all but ever present for 'The Black Yellows' this year - and in the five games he has missed so far in 2012/13, Dortmund have yet to win, losing twice and drawing three times.
Gundogan has found himself a place in the side sitting as a deep-lying playmaker utilising his excellent vision, passing range and close control to guide this Dortmund side which was brilliantly shown off to the British public in his display of crisp and accurate passing against Manchester City in the group stage of this year's Champions League.
His ability to read the game and willingness to get involved in physical play have made Gundogan the engine of Jurgen Klopp's side, and he has become irreplaceable as a result.
His style has drawn comparisons with Xabi Alonso - understated but effective and appreciated by his team-mates. Gundogan is another emerging star of the German game blessed with superb technique alongside the likes of Gotze, Reus, Mesut Ozil, Toni Kroos, Andre Schurrle, Lewis Holtby and Thomas Muller amongst others. What sets Gundogan apart though is his ability to drive a team in the vein of Schweinsteiger - an attribute that very few players are blessed with.
If Malaga are to have a chance against the German double winners, stopping Dortmund's ever-ticking tempo-defining pendulum in the form of Gundogan should be a top priority. The pressing side to their game has been exposed by a number of sides this season in La Liga and that may give Gundogan the perfect opportunity to express his ability and help to swing the tie Dortmund's way. Although he and his partner in midfield, whether it be Sahin, Sebastien Kehl or Sven Bender, will have to be equally wary of the threat posed by Malaga's star man Isco between the lines.
The tie is likely to be decided on that battle - if either Isco or Gundogan is allowed space, they can open up the opposition and create chances for their team-mates and the combat between them in the middle of the park should be fascinating. Dortmund's increasing reliance on the young playmaker will see him play a central part in the tie.
While the focus will be on the likes of Gotze and Lewandowski, Gundogan will dictate the play from behind the scenes and if Dortmund are to reach the semi-finals, he surely will not be operating under the radar for much longer.