Borussia Dortmund coach Jurgen Klopp hails Champions League win over Malaga
Borussia Dortmund coach Jurgen Klopp says his side's Champions League win over Malaga was the best of his career.
Last Updated: 10/04/13 6:42am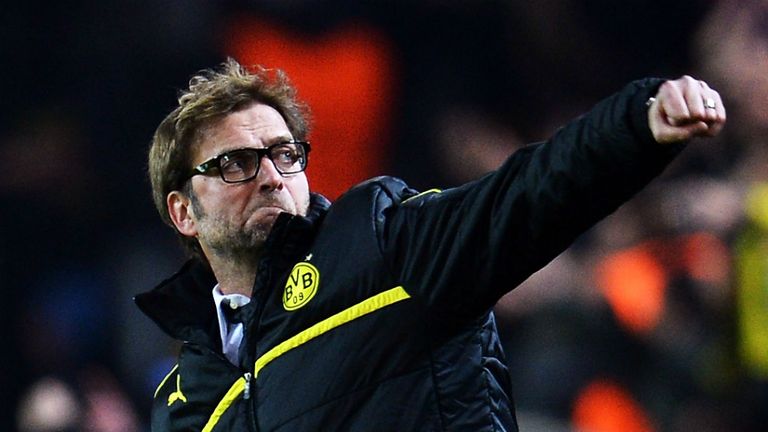 Dortmund produced one of the greatest comebacks in European Cup history as they scored twice in injury-time to progress to the semi-finals 3-2 on aggregate.
Malaga looked to be heading to the last four thanks to goals from Joaquin and Eliseu, but late replies from Marco Reus and Felipe Santana completed an unlikely comeback.
Asked if he ever seen a game like that before, Klopp told Sky Sports: "No, I wouldn't have. I did wish today I would see this.
"This is one face of football - one very disappointed team in this moment and one lucky team - it was unbelievable.
"We made, I think, our worst game in the Champions League. The first half we showed a bit of nerves - not our best football.
"In the second half we tried a bit better and they were two clever this evening, it was not easy.
"We got the goal and we made it. It is unbelievable what happens in this stadium - it was crazy."
Dortmund's winning goal should have been ruled out for offside with television replays showing Santana was offside when he prodded the ball over the line, but Klopp felt the decision cancelled out Malaga's second goal which replays also showed was offside.
"I heard the second goal too [was offside] and this is very important information," added Klopp.
"Over the two games we are the deserved winner so now everything is OK, but I cannot describe what happened inside me.
"I think I have to go to the doctor, but it was really crazy it was a like a championship, it's not a championship, but it felt like it.
"In the dressing room my assistants and me were looking at each other in shock. We are in the semi-final, nobody could believe who knew us a few years ago. Now it's really crazy but one of the best things I have ever felt."
Asked if his side could go on to win the Champions League, Klopp added: "If we play like tonight, no, but if we play like we have in the Champions League, the passion of tonight we are really hard to play, difficult to play as we will see but now we have got the target and we reached it."