Sky Sports Scout - Ilkay Gundogan
Sky Sports Scout is where we scour the globe looking for the best talent. Next up is Ilkay Gundogan.
By Sky Sports Scout - Tweet me: @skysportscout
Last Updated: 21/05/14 11:52am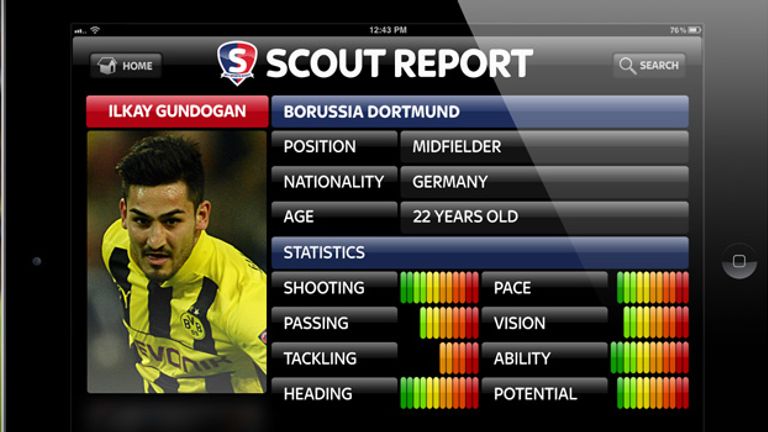 Sky Sports Scout is our exciting feature where we scour the globe looking out for the best talent and bring you a report on what we find.
Our Scout will report back and you can comment on what you think of our appraisal.
You can only nominate a player by emailing here, including the word 'Scout' in your subject line and please check to make sure we have not already covered the player.
You can also now interact with the scout via his all-new Twitter feed! You can get in touch with him and interact here or just search for @skysportsscout
The latest player under our scout's gaze is Borussia Dortmund's Ilkay Gundogan.
The scout reports...
Few countries have produced more players for us to do scout reports on than Germany and few teams more than Borussia Dortmund. That trend is continuing this week as we make a check on Ilkay Gundogan, who was at the heart of their win over Real Madrid in the UEFA Champions League this week.
Gundogan is not a Dortmund product, but his €4million signing in 2011 shows that there are bargains to be found even in today's world of inflated transfer fees.
As his names suggests, Gundogan is of Turkish decent with both his parents coming from Turkey, but he was born in Germany after his father moved in the 1970s.
Gundogan was born in Gelsenkirchen, making his current status as one of the darlings of Dortmund all the more miraculous.
Gelsenkirchen is the home of Dortmund's arch-rivals Schalke and Gundogan was a huge fan of the Royal Blues growing up. He was delighted to join them aged just nine after playing for youth side SV-Hessler 06.
But things did not work out for the youngster as he was not happy with his surroundings and returned to Hessler, and even rejected another approach from Schalke a few years later to return to their youth set-up.
Instead he was snapped up by Bochum in 2008 aged 17, and he was soon involved for their second team. But during that same winter break he was offered a move to FC Nurnberg and with the prospect of first-team football he agreed a two-year deal.
At this time he was also invited into Germany's youth set-up, where he also became a regular. With Nurnberg promoted to the Bundesliga in 2009 he was soon making his top-flight debut and has never looked back.
After two years, he had an outstanding campaign in 2011 with five goals for Nurnberg. This led to Borussia Dortmund coming in and paying just €4million, and Bochum got a quarter of that.
Within months of joining Dortmund Gundogan banished any question marks over his international status, as Turkey still held out some hope, as he made his full debut for Germany. But despite his rapid rise, his early days were not without struggles and at times he was rested for his own good by Jurgen Klopp.
But Klopp knew what he had on his hands, a class act - who within six months or so was hitting his stride. By the start of last season he was a permanent fixture and now he is set to become one of the most influential midfielders in Europe.
Whilst he has real genuine attacking capabilities, Gundogan's work-rate and passing are his key components - enabling him to control the midfield from deep. His passing since coming under Klopp's regime has become a wondrous thing, and is very much in the Xavi and Andres Iniesta bracket for not wasting possession.
Gundogan's progress in the last 12 months has seen him mature into a midfielder who can dominate a game just with his presence. He could easily be labelled a a 'water-carrier' in the Didier Deschamps mould - but he is so much more.
The scout says...
Clearly more than happy with life at Dortmund, he is one of their key-men - but with that comes interest from elsewhere.
Gundogan himself has admitted he would like to try Spain or England, and if he does leave Dortmund he WILL have his pick of whichever club he wants.
The Scout rating...
Shooting: 7 out of 10
Passing: 9 out of 10
Tackling: 8 out of 10
Heading: 7 out of 10
Pace: 7 out of 10
Vision: 8 out of 10
Current ability: 8 out of 10
Potential ability: 10 out of 10
OVERALL SCOUT RATING:64/80
Current value: £14million
Potential value: £40million
Your opinion...
You have read our opinion of Ilkay Gundogan - now we want your views. Have you seen Gundogan in action? Do you agree with our assessment? Do you think he will make it?
Get in touch, either using the form below, email or the scout's Twitter feed - @skysportsscout